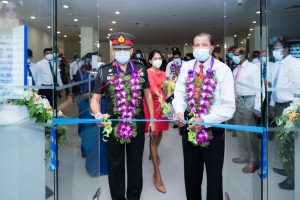 Vision Care, Sri Lanka's largest eye care solutions provider, has expanded its network with the unveiling of its latest branch located at the Kotelawala Defense University Hospital, Werahera.
The opening ceremony, held in accordance to the health guidelines brought about due to the COVID-19 pandemic, was graced by the presence of Vice Chancellor of General Sir John Kotelawala Defense University Major General Milinda Peiris, Executive Director of University Hospital KDU Specialist Dr. B.J. Mendis, Consultant Eye Surgeon Dr. Aruna Fernando and Specialist ENT Surgeon Dr. Wasanthika S. Thuduvage, along with several Vision Care staff members and well-wishers.
The conveniently-located new branch offers ample parking and a modern look and feel with spacious interiors and a wide range of products and services that includes spectacles, sunglasses, contact lenses and hearing aids. It is outfitted with state-of-the-art eye care and hearing care equipment that are expertly-handled by Vision Care's well-trained, highly-experienced professionals.
Customers can access the latest eye care solutions as well as a wide array of impressive, world-renowned brands for sunglasses and frames. They are able to choose from top global eye wear brands for men and women such as Ray-Ban, Vogue, Polaroid, Vintage, PolarSun, and many others. The branch also offers hearing care solutions from Oticon, one of the world's most innovative hearing device manufacturers with more than 110 years' experience in the design and development of hearing aids for adults and children.
As Sri Lanka's No.1 eye care solutions provider, Vision Care is constantly looking at ways to improve and expand its network of branches with the aim of providing the best quality eye and hearing care solutions to its customer base. The company intends to continue to add new branches as well as upgrade its existing ones in the future in order to bring Vision Care's world-class products and services to their customers' doorstep, thereby enabling them to easily and safely access eye and hearing care of international quality. All Vision Care branches strictly adhere to the health guidelines specified by the authorities in order to ensure a safe and secure visit for all customers.