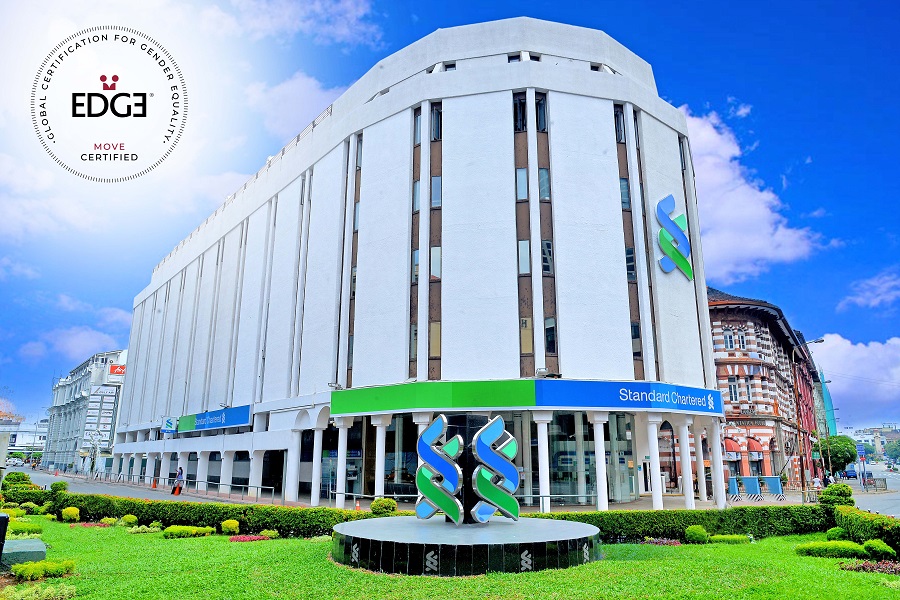 Standard Chartered Sri Lanka has been certified at the second highest level of the three-tiered Economic Dividends for Gender Equality (EDGE) Certification – "Move: Showcasing Progress", marking a first for Sri Lanka.
The Bank's EDGE Certification, the process of which was supported by the International Finance Corporation (IFC) under the IFC-DFAT Women in Work programme, helps recognise its strategic commitment to creating a gender-equal workplace that benefits employees, customers and partners.
Launched at the World Economic Forum (WEF) in 2011, EDGE, is the leading global assessment methodology and business certification standard for evaluating corporate commitment to gender equality. Supported by IFC, a licensed partner of EDGE Certification, Standard Chartered Bank's workplace gender equality performance was assessed and evaluated against global and industry benchmarks. This certification recognises the Bank's People and Diversity & Inclusion Strategy to be a strong and effective institutional framework of policies and practices that showcase progress in equal representation, pay equity and equitable career flows.
Additionally, Standard Chartered offers several programmes that promote equality in the workplace, introducing a fair pay charter, employee support groups and mentoring programmes among others which led to achieving 50:50 gender balance in the workforce, 100% maternity return rates and 50% new women recruits. The Bank's participation in the two-year IFC-DAFT Women in Work, SheWorks partnership, further enhanced these endeavours.
In some of the key highlights noted during the validation process, Standard Chartered was highly commended on areas such as equal access to leadership development opportunities, strong framework of policies and procedures, inclusivity of the work environment, balanced gender composition in management positions and flexible work conditions.
Bingumal Thewarathanthri, Chief Executive Officer, Standard Chartered Sri Lanka, commenting on the Bank being certified at the EDGE Move level said, "In an ever-changing corporate world, where competitiveness among firms have reached new heights and as the world moves towards adapting new ways of working, we at Standard Chartered continuously strive to ensure equality among our workforce, which is our greatest asset. We believe investing in the wellbeing of our workforce promotes empowerment and aids our employees to passionately engage in assigned duties. Therefore, this internationally recognised accreditation marks a significant milestone in our global journey towards positioning Standard Chartered as a thought leader for gender equality."
Ransi Dharmasiriwardhana, Head of Human Resources & Country Chair, Diversity & Inclusion, Standard Chartered Sri Lanka stated, "At Standard Chartered Sri Lanka, we take great pride in our strong Diversity and Inclusion (D&I) culture, it is in our DNA and at the heart of our business. I am so proud that Standard Chartered Sri Lanka is one of two markets in our entire global network to have received this certification, a clear indication of the unique culture we have in Sri Lanka. Our success is driven by our exclusive benefits, robust systems, cutting edge policies and comprehensive procedures at all stages of the employee life cycle which has enabled a strong platform for equal opportunities, strong performance and professional growth for all our employees irrespective of their differences. We will continue the implementation of these best practices and build on the existing great work environment that promotes, empowers and most importantly takes care of our people!"
"Strengthening women's role in the workplace not only helps to unlock opportunities for increased business impacts for a company, but also paves the way for economic growth and development in a country. For Sri Lanka, there is no better time for it than now as we work towards a resilient recovery from the COVID-19 pandemic," said Victor Antonypillai, Acting Country Manager for IFC Sri Lanka and Maldives. "We are delighted that Standard Chartered Bank – an IFC SheWorks Sri Lanka partner – is moving towards this direction by stepping up their efforts in promoting an equal and inclusive workplace. We believe that this feat will encourage more Sri Lankan companies to commit to gender equal workplaces in the future."
Further to being Great Place to Work® certified for the third consecutive year in 2021, the Bank was recently named one of the 10 'Best Workplaces

for Women in Sri Lanka' for implementing multiple initiatives to support the advancement of women in the workplace.