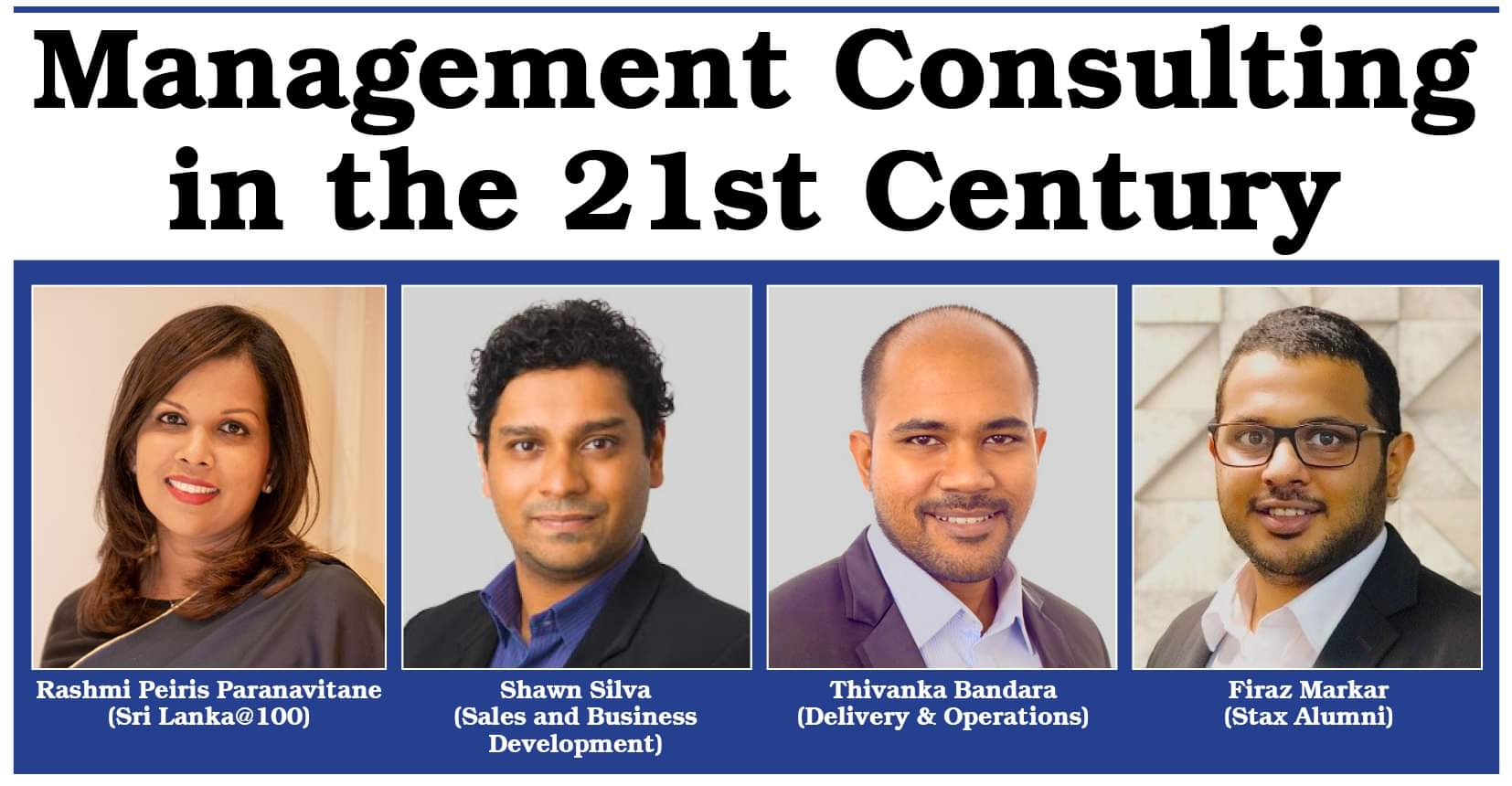 Leading global management consulting firm Stax recently conducted a webinar on 'Management Consulting in the 21st Century', providing a comprehensive overview of trends in the profession and its future growth potential.
The webinar drew over 200 participants as the excellent lineup of panelists shed light on the evolution of the consulting field and also spoke to the need for adopting international best practices. The session was insightful for both newcomers to the field as well as experienced professionals, with opportunities for growth and innovation in the field being discussed.
"The infusion of new blood into the profession is an essential process", stated Stax Managing Director Dr. Kumudu Gunasekera, kicking off the webinar. "As one of the foremost organizations in the field of Management Consulting, we see it as our responsibility to raise the standard of the entire industry. This webinar is aimed at experienced professionals and new entrants alike, aiming to give them knowledge to steer their careers, transform themselves and make a mark, especially at one of the most dramatic times in human history."
The panel for the event included Prabodha Shawn Silva, a mechanical engineer turned management consultant, counting 16+ years' experience. He provided a snapshot of the evolution of management consulting while also outlining its importance in the business world. For those looking to enter the field, he specifically highlighted how one can leverage their varied backgrounds and skills for a successful career in consulting.
Thivanka Bandara, a young leader at Stax with 9+ years of experience, enlightened the audience on multiple growth opportunities at Stax. He highlighted how the organization has structured its key practices, allowing individuals to carve their own career journey, from a very early stage, based on individual competencies. Stax Alumni Firaz Markar, a veteran consultant with over 14 years in the field, elaborated on the positive professional and personal transformations witnessed throughout his career. The honing of many useful and transferrable skills such as being solution-oriented and applying structured thinking, were some core areas discussed by Firaz.
Rashmi Peiris Paranavitane, CFA with over 15 years of experience, stressed the importance of personal autonomy and having the tenacity to carve your own path, in order to be successful in this demanding field. She elaborated that while the 'Working from Home' trend necessitated by the pandemic has been challenging for many—especially for those simultaneously caring for young children at home—that there have also been unprecedented opportunities for individuals to redefine their own work-life balance, and that companies will be expected to continue making allowances for more flexible work environments.
As businesses emerge from the COVID-19 crisis new ideas, tools, work processes, and frameworks will be essential for navigating this 'Great Reset.'. Stax Inc. is a global management consulting firm, headquartered in Boston and offices in Chicago, New York, and Colombo. With more than 25 years of experience, Stax advises the world's largest public and private corporations, private equity firms and their portfolio companies across a broad range of industries covering 40+ international markets. With a growing client base in Sri Lanka, including diversified conglomerates, blue-chip industry leaders, large family businesses, government organizations, and NGOs, Stax inspires organizations to dream big, think outside the box, and complement gut-based decision-making with fact-based research. For more information, please visit www.stax.com.