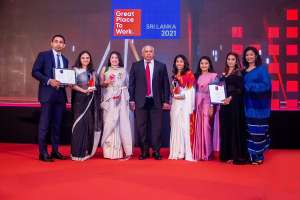 DIMO, one of the leading diversified conglomerates in Sri Lanka, was recognized as a great place to work for the 9th consecutive year, at the Great Place to Work (GPTW) Awards Ceremony 2021 held recently.
In addition to clinching the 'Asia's Best Workplace 2021' title for the 2nd time, DIMO also bagged two category awards which were given for the company's best-in-class people practices; Excellence in People Initiatives – Talent Attraction & Onboarding and Excellence in People Initiatives – Inclusive Culture.
DIMO has proven yet again that it truly delivers on its Employee Value Proposition of 'Making Work Enjoyable & Rewarding', across its diverse workforce and have sustained the tribe's acceptance as an astounding employer.
DIMO, fuelling dreams and aspirations, transcends the talent of over 1800 employees, firmly understanding the unique capabilities of every team member by consistently leveraging their personal and professional growth, irrespective of their area of specialization. Apart from the prospects of good talent screening, the tribe is also attested with leadership skills along with their ability to respond to change. Diversity holds a paramount significance for the company to endure creativity within every branch of the organizational structure. These prolonged measures of unbiased talent nurturing led DIMO to be recognized in the Excellence in People Initiatives: Talent Attraction & Onboarding category this year.
'Diversity and Inclusion' is one of the significant sustainable goals of the company and DIMO is committed to advance gender equality in the organization. As a part of its sustainability agenda, DIMO has set an ambitious target of increasing women in the decision-making roles from 10% to 40% by 2025. DIMO has a constant drive to advance every spectrum of diversity which includes supporting parental responsibilities of employees, inclusion of persons with disabilities and non-discrimination towards marginalized communities and more. The company bases all of its diversity and inclusion initiatives on creating an environment where people respect, value and support one another irrespective of individual differences. These historic practices had guaranteed the award in the Excellence in People Initiatives: Inclusive Culture category at the recently held GPTW awards ceremony.
"Given how successfully we have navigated the challenges of this pandemic and how we have also managed to adapt to new ways of work, it is reassuring to me that DIMO constitutes of highly competent and engaged individuals. This is a reflection of our deep-rooted trust, meticulously built best practices in talent attraction and a testament to our persistence in advancing equal opportunity, meritocracy and mutual respect which ensures no one is left behind in our growth process. I am proud of this journey as one team and I am certain our people-first approach will take DIMO towards an abundance of success and prosperity", stated Ranjith Pandithage, Chairman & Managing Director of DIMO.
Operating amidst the Covid-19 pandemic, DIMO is fuelled by its resilient workforce, overcoming the demands of the community in spite of this new normalcy. The organization is able to further nourish its unique work culture as a hybrid workforce with continuous training and development, consistent transparent communication while assuring the stability of mental and physical wellbeing in the working environment. The collective contribution of the DIMO tribe and the leadership of the company further assisted in upholding their high-performance teams marching towards the end goals. Prioritizing diversity and inclusivity with no one left behind, DIMO steps ahead with its innovative competence among the large-scale companies in Asia.