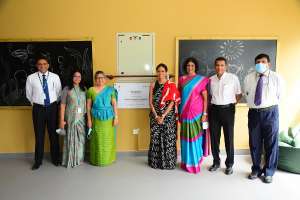 Hemas Outreach Foundation, the Corporate Social Responsibility (CSR) arm of the Hemas Group marked International Day of Persons with Disabilities on the 3rd of December, with the release of a special song by Bhathiya and Santhush (BNS) dedicated to children with disabilities as well as the launch of an 'Ideation Zone' at the AYATI National Centre for Children with Disabilities in Ragama. Hemas, a truly Sri Lankan company that believes in championing an inclusive world where no child is left behind, joined the Faculty of Medicine of the University of Kelaniya in 2016 to set up the AYATI Trust Sri Lanka, together with MAS Holdings Pvt. Ltd., Roshan Wijerama Foundation, Rotary District 3220, and built the centre with support from the Sri Lanka Army.
The dynamic musical duo BNS developed the AYATI song, to support the Centre's campaign to eradicate the stigma related to disability, especially Down Syndrome. The lyrics of the song are based on the reality faced by children with disabilities and impresses on people that they too need to be loved, given equal opportunities to attend schools together with other children. Such inclusivity enables them to socialize with others, become independent and integrate into society as productive citizens in the country.
"At Hemas, we strive to enrich the lives of the communities of our nation and we work through the Hemas Outreach Foundation to create a more inclusive world. All children must be given the opportunity to unleash their full potential and it is vital that each of us play our part to empower children with disabilities and their families to lead a dignified life," Kasturi Chellaraja Wilson, Group CEO Hemas Holdings PLC said, commenting on the initiative, further adding, "As a part of our commitment to make healthful living happen across the nation we launched the 'Piyawara' program in 2002. This program was initiated focusing on early childhood development in Sri Lanka to enrich the lives of children from underprivileged communities since we believe no child should be left behind. Earlier this year we launched 'Eka Se Salakamu' (Treat All Alike) a social movement aimed towards empowering children and families with Down Syndrome, creating a platform to recognize their rights and promote inclusivity in today's society."
With over 20% of children in Sri Lanka estimated to have some form of a disability, the AYATI Trust works towards creating an inclusive society to prevent those with disabilities from being subjected to prejudice and lack of access to specialized services.
Prof. Nilanthi de Silva, Vice-Chancellor of the University of Kelaniya and Chairperson of AYATI Trust Sri Lanka spoke about the importance of the work done by the Centre. "This year's theme for the International Day of Persons with Disabilities is 'Leadership and participation of persons with disabilities toward an inclusive, accessible, and sustainable post-COVID-19 world'.Sadly, the COVID-19 pandemic combined with myths and lack of awareness and understanding about disabilities has led to the worsening of social isolation experienced by countless numbers of children. Though many children with disabilities have their innate talents, they are not given opportunities to shine in the same way as other children. At the AYATI Centre, we work towards bridging this gap. The AYATI Centre and the Department of Disability Studies of the Faculty of Medicine, University of Kelaniya aims to become a centre of excellence in Asia for care for children with disabilities."
The 'My World' Ideation Zone was also launched at the AYATI National Centre and is designed to provide art therapy for children to express their thoughts visually as a form of communication that helps the therapist to have a better understanding of the child. The Ideation Zone will make learning fun by stimulating their vision, cognitive and motor skills, and comprehension and promoting socially acceptable behaviours as part of their holistic development. The special garden has a play boutique and a playhouse for children to express themselves freely, and make it easy for therapists to communicate with them. The Ideation Zone is also meant as a place for respite for the caregivers and encourages them to seek help if required.
The AYATI Centre was commissioned in January 2020, and over 7,000 children across the country are registered with the Centre to date. All services at AYATI are provided free of charge under one roof by the best medical and healthcare professionals attached to the Faculty of Medicine, University of Kelaniya.
Please see below link for the AYATI song,