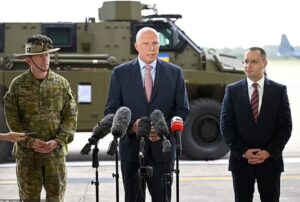 Australia says China gained control of a port in Sri Lanka because the island could not pay for the debt that they incurred from the Chinese in building that port.
The Australian Government was referring to the Hambantota Port which was built by China ans is now being managed by the Chinese together with Sri Lanka.
'They've got a port in Sri Lanka, where they've taken that port back because the Sri Lankans couldn't pay for the debt that they'd incurred from the Chinese in building that port,' Australia's Defence Minister Peter Dutton said.
Peter Dutton said that Australia wants a normalised peaceful relationship with every country, including China. But he says China has changed.
Dutton said while it was in Australia's best interests to have a good relationship with China they weren't going to be 'subservient or cower to them'.
He said the country's military and naval capacities had to be prepared for a situation that just a year ago would have been 'inconceivable' and more had to be spent on defence to maintain peace and stability with the eastern power.
His comments comes after his own party was criticised for not doing enough to deter a security pact between China and the Solomon Islands.
There are fears the deal between the two countries will mean China could build a military base less than 2,000km from Australian shores.
Prime Minister Scott Morrison has said the Solomon Islands Government had stated it would not allow any Chinese naval bases under the deal.
On Sunday morning Dutton left open the suggestion that China may have bribed the Solomons to sign the deal. (Daily Mail / Colombo Gazette)