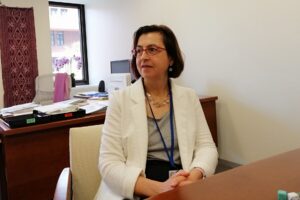 The International Monetary Fund (IMF) has told Sri Lanka to formulate a fiscal policy in a way that protects the livelihood of the most vulnerable.
Anne-Marie Gulde-Wolf, IMF Acting Director of the Asia and Pacific Department said that Sri Lanka is a country that is on everybody's radar screen.
"There's a lot of attention given the deep economic problems the country faces right now, and I want to start by saying that we at the IMF are clearly very concerned about Sri Lanka and trying to work on finding a faster as possible solution for the country," Anne-Marie Gulde-Wolf said.
Anne-Marie Gulde-Wolf said that the most important issue is to find a credible and coherent macroeconomic strategy that addresses the key risks in the country.
"And this would include on the fiscal side, revenue-based consolidation strategy that increases ability of the country to raise revenues and to address suspended most critical spending needs. Monetary policy has to be tightened to keep the inflation in check and we see a need for a flexible exchange rate. And I want to emphasize that in this adjustment measures, we have to be mindful of the most vulnerable, and fiscal policy has to be formulated in a way that protects the livelihood of the most vulnerable," Anne-Marie Gulde-Wolf said.
On revenue-based consolidation, she said that wherever possible the taxes should be paid more by those that are well off compared to the most vulnerable segments of society.
"Now, we have received a program request from Sri Lanka, and we have had very good, fruitful, technical discussions on preparations for further negotiations with the authorities over the past weekend and a couple of days before. The number of concerns arise and, you know, we had a Country Report that was done in February -– a regular Country Report and did contain the debts of sustainability assessment," she said.
Anne-Marie Gulde-Wolf said that debt in Sri Lanka is assessed as being unsustainable so the IMF welcomes the authorities' intent to engage with their creditors. (Colombo Gazette)