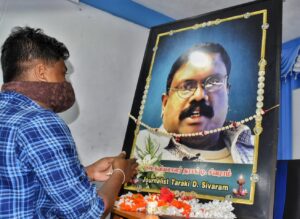 Journalist Dharmeratnam Sivaram, better known as Taraki, was remembered today, 17 years after his murder.
The Tamil journalist was kidnapped by four men in a white van on 28 April 2005, in front of the Bambalapitya Police station.
His body was found the next day near Parliament. He had been beaten and shot in the head.
In 1988 with the encouragement of fellow journalist, activist and actor Richard De Zoysa he became a reporter for the UN-funded Inter Press Service (IPS), for whom De Zoysa was a correspondent.
In 1989, when The Island newspaper needed a political analyst, De Zoysa suggested Sivaram.
The then Editor of the Island, Gamini Weerakon, proposed tharaka or star in Sinhalese as Sivaram's pen name but a sub-editor accidentally printed Taraki instead, giving birth to Sivaram's nom de plume.
In 1990 Sivaram helped identify Richard De Zoysa's body after De Zoysa was abducted from his home and killed.
As a free-lance journalist, Sivaram, eventually wrote for many newspapers including The Island, The Sunday Times, Tamil Times of London, The Daily Mirror, and the Tamil newspaper Virakesari.
In 1997, Sivaram helped Tamilnet.com reorganise itself into a Tamil news agency with its own string of reporters, and remained a senior editor there until his death. (Colombo Gazette)