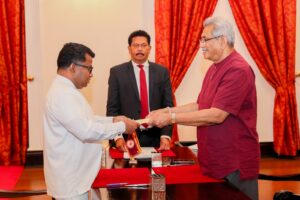 Former rebel Sivanesathurai Chandrakanthan alias Pillayan has been given a State Minister portfolio.
Chandrakanthan was appointed State Minister of Rural Road Development.
He was among 4 new State Ministers appointed today.
Others included S Viyalendran, who was appointed State Minister of Youth and Sports, Mohammed Muszhaaraff who was appointed Textile industry and local apparel product promotion and Suren Raghavan who was appointed State Minister of Higher Education (Amended).
The Attorney General had indicted Pillayan with 06 other persons in the High Court of Batticaloa for offences committed under Sections 32, 102, 113[b], 140 & 146 of the Penal Code read with Section 2[1][a] , 2[i] & 3[b] of the Prevention of Terrorism [Temporary Provisions] Act No. 48 of 1979 as amended by Act No. 10 of 1982 and Act No. 22 of 1988 in connection with the killing of former Member of Parliament for Batticaloa District Joseph Pararajasingham.
Pillayanhad been jailed but was later released on bail. (Colombo Gazette)