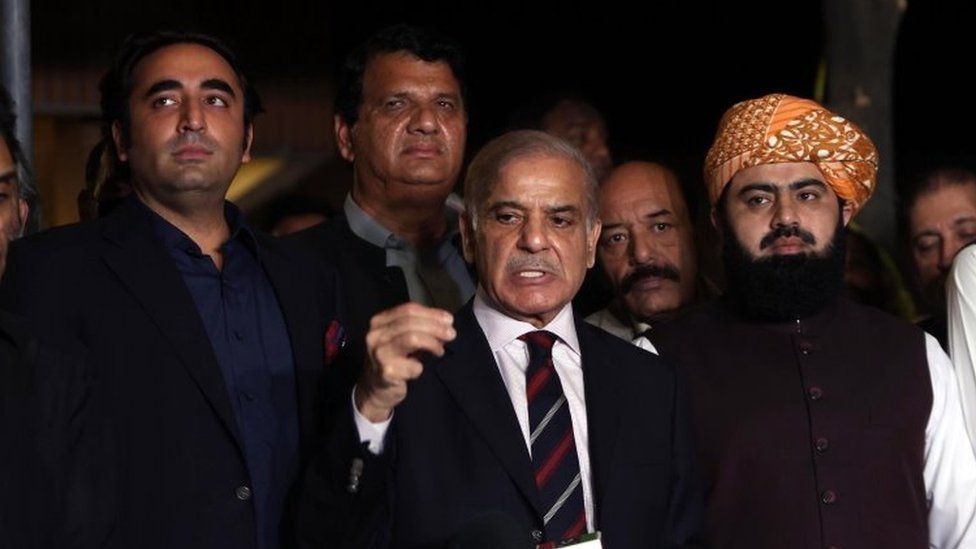 Pakistan's parliament has selected Shehbaz Sharif as the country's new prime minister, after Imran Khan was ousted in a no-confidence vote in the early hours of Sunday.
The opposition coalition leader – who had worked to depose Mr Khan – won the support of a majority in parliament.
Shehbaz Sharif will now form a new government that can remain in place until elections are due in August 2023.
Mr Khan, 69, was voted out after days of high political drama.
He had attempted to block a previous attempt to bring a no-confidence motion against him by dissolving parliament and calling for a snap election.
However, the country's Supreme Court upheld an opposition petition that his actions were unconstitutional and ordered the no-confidence vote to go ahead.
On Monday Mr Sharif was elected in parliament unopposed and will be Pakistan's 23rd prime minister.
Rival candidate Shah Mahmood Qureshi had announced the Pakistan Tehreek-e-Insaf party led by Mr Khan was boycotting the parliamentary vote and staged a walkout. The former PM and most of his party's MPs resigned from their seats ahead of the vote.
Shehbaz Sharif submitted his candidacy for the top post on Sunday, before winning 174 votes in parliament the following day – two more than a simple majority of lawmakers.
In a speech after the vote, Mr Sharif accused Imran Khan's outgoing government of mismanaging the economy and said putting it back on track would be a huge challenge for his new government.
However, Imran Khan, whose supporters protested across major cities after he was dismissed, is still blaming a "foreign conspiracy" for his removal as prime minister.
He has claimed that his rivals colluded with the US to remove him because of his foreign policy stance on Afghanistan, Russia and China. Washington has strongly denied the allegations and they have been ridiculed by his opponents.
But the former international cricketer's claims fed on anti-American sentiment held by many of his supporters. (Courtesy BBC)