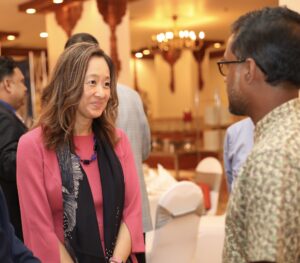 The United States stands ready to support Sri Lanka's Muslim community, the US Ambassador to Sri Lanka Julie Chung said.
Speaking at an Iftar event hosted by the US Embassy in Colombo, the Ambassador noted that over the coming years and through her travels, she looks forward to learning more about the history of Islam in Sri Lanka and the important role Muslims play across the spectrum of Sri Lanka's diverse society.
"Ramadan is a holy month of reflection and devotion, forgiveness and compassion, peace and charity. As we reflect on these core values, we are reminded of the suffering caused by the pandemic and economic crisis over the past two years, including its disruptions of cherished traditions. Even as the pandemic subsides, we are all facing the uncertainty of the current political and economic situation. Many of those most deeply affected by the pandemic are also the most-hard hit by the ongoing economic crisis," she said.
The Ambassador said that while the suffering and tribulations of the past two years have been sobering, there has also been signs of hope and resilience.
"Around the world and across Sri Lanka, Muslims have been on the frontline united in service, faith, and shared humanity to care for the ill, provide essential services, and relieve suffering. For all those who have sacrificed so much and continue to do so, we are in your debt, including many of you in this room who have been leaders of service to your community and your country," she added.
The Ambassador said that while around the world Ramadan is a time for selflessness, peace, and tolerance, in Sri Lanka, it is an opportunity not only for Muslims but for members of all communities to rededicate themselves to working together to find solutions to the challenges facing the country.
She said the United States is committed to working with all Sri Lankans to realize this vision and stands ready to support the Muslim community, as they have in the past.
The Ambassador also quoted President Biden as saying in his remarks this Ramadan that during this holy month, as Muslims everywhere honor God's great mercy we must also renew our shared commitment to show kindness, mercy, and understanding to one another. (Colombo Gazette)