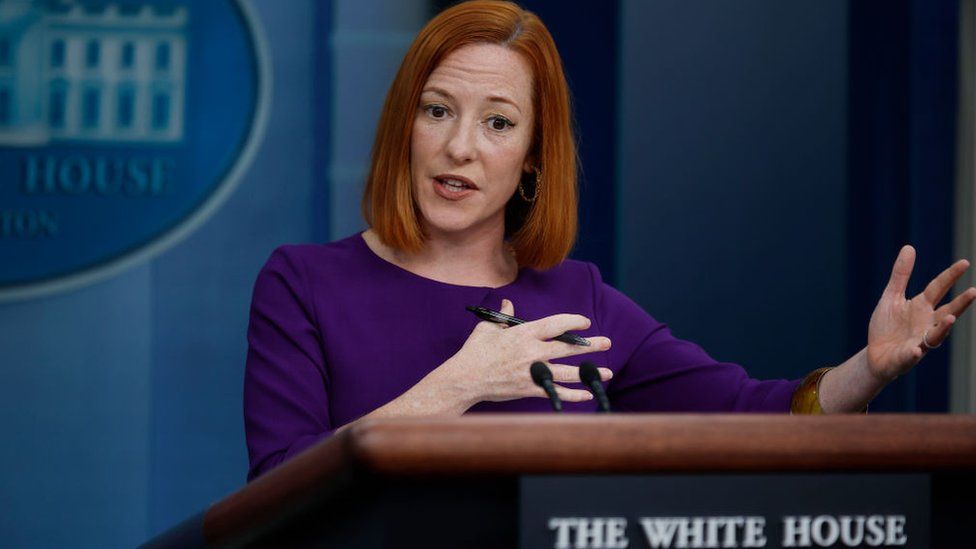 Western leaders are set announce a further set of sanctions against Russia on Wednesday, the US has said.
White House Press Secretary Jen Psaki said the measures will target Russian financial and state-owned bodies, as well as some officials and oligarchs.
Ms Psaki said the move will "hold accountable the Russian kleptocracy that funds and supports Putin's war".
Calls for further sanctions have grown in recent days amid allegations of Russian atrocities in Bucha.
The town's mayor told the BBC on Tuesday night that Russian forces had killed around 320 civilians during their occupation of the town, while the discovery of mass graves has caused outage in western capitals.
Ms Psaki told reporters during a news conference in Washington DC on Tuesday that the sanctions, which are expected to include a ban on all new investment in Russia, will "degrade key instruments of Russian state power, impose acute and immediate economic harm on Russia".
The Wall Street Journal said on Tuesday that the Sberbank, Russia's largest lender, may be among those targeted.
US media has suggested that sanctions could also target the two daughters of Russian President Vladimir Putin, though Ms Psaki refused to comment on the reports.
She added that the sanctions will be announced will be taken in coordination with the EU and other G7 nations.
"In coordination with the G7 and the EU, an additional sweeping package of sanctions measures that will impose costs on Russia to send it further down the road of economic, financial, and technological isolation," Ms Psaki said.
The proposed ban on Russian coal, which must be agreed by all 27 member states, would mark the first time the EU has blocked imports of Russian energy.
The bloc buys around €4bn (£3.3bn) worth of coal from Moscow every year.
Some member states, including Germany, are heavily reliant on Russian energy and had been reluctant to directly target the sector. But sentiment appeared to change after evidence of Russian war crimes emerged, with French President Emmanuel Macron joining calls for a ban earlier this week. (Courtesy BBC)