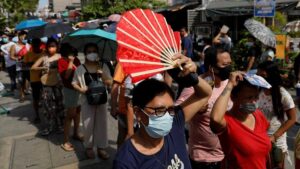 Voting has begun in the Philippines, with millions queuing across the islands to choose their next president.
The man tipped to win the presidency is Ferdinand "Bongbong" Marcos Jr, the son of the nation's former dictator.
Polls suggest he may see a landslide victory, meaning the Marcos clan that was toppled 36 years ago could reclaim power.
His closest rival is Leni Rebredo who beat Mr Marcos in the 2016 vice-presidential elections.
A high turnout is expected of the nation's eligible 67 million voters- with many on Monday lining up before dawn to cast their votes as polling stations at schools and community centres which opened at 06:00 (22:00 GMT Sunday).
But there have already been reports of voting issues at the polls already, with some voters telling BBC reporters at the Epifanio Delos Santos elementary school in the capital Manila that they were having trouble putting their ballots into the vote counting machines.
A report by local news site the Inquirer said almost 2,000 vote counting machines – which voters feed their ballots directly into – had malfunctioned.
However, Comelec Commissioner George Garcia said this had been "resolved", the report added.
In the volatile Mindanao region, a grenade attack outside a polling station late on Sunday left nine people injured, said police, according to an AFP report.
Whoever wins will take over from Rodrigo Duterte, the strongman leader who's come to the end of his six year term in office.
Mr Duterte's government has been criticised for its brutality in cracking down on drugs and crime, though the administration has always rejected allegations of wrongdoing. (Courtesy BBC)