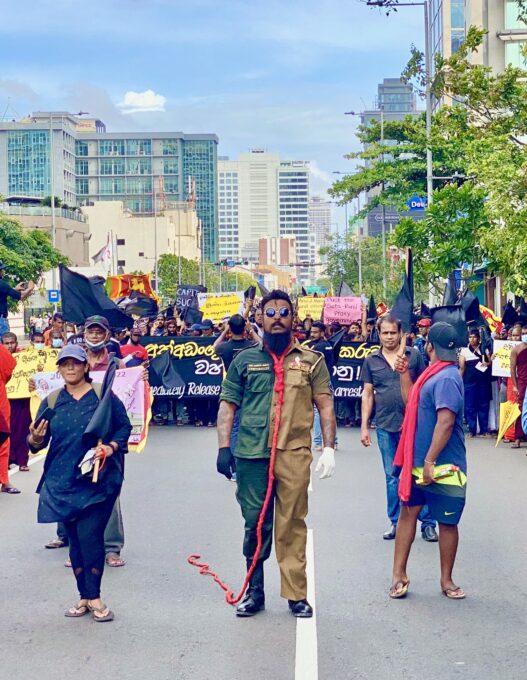 By Easwaran Rutnam
A protest march was held today to mark 50 days of the struggle at Galle Face in Colombo.
The march, which began at Colpetty, saw the participation of trade unions, university students, and several ordinary citizens.
The march went along Galle Road and through Galle Face where they were joined by religious leaders and others.
The peaceful demonstrators walked towards Fort and stopped near the turn to the World Trade center.
Some of the participants, including activists, spoke to the protesters and issued a declaration.
The protesters were urged to disperse peacefully and not engage in any violence.
The Gota Go Gama protest site at Galle Face marked 50 days today (Saturday).
The protest began on 9th April after Sri Lanka suffered a serious economic crisis resulting in a shortage of fuel, gas and enforced power cuts.
Protesters gathered at Galle Face, near the entrance to the Presidential Secretariat and demanded President Gotabaya Rajapaksa to accept responsibility for the crisis and step down.
The protest grew in numbers over the following days as most people began to camp at Galle Face giving the protest site the name "Gota Go Gama" and "Occupy Galle Face".
The camp site continued to grow each day with food and water being donated and medical facilities also being established.
A number of attempts were made to push the demonstrators to leave the premises but the attempts failed.
Eventually on 9th May Government sponsored thugs and protesters marched to Galle Face and attacked the peaceful demonstrators.
The incident grew wide condemnation and also led to the resignation of Prime Minister Mahinda Rajapaksa. (Colombo Gazette)