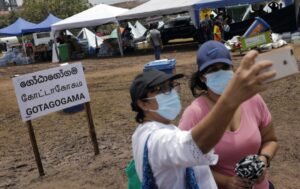 By Easwaran Rutnam
Prime Minister Ranil Wickremesinghe has sought a truce with the demonstrators at Gota Go Gama (GGG).
Tourism Minister Harin Fernando said that the Prime Minister hopes to meet some representatives of GGG on Monday.
He said that the Government will seek a truce and time to address the critical issues in the country.
"Gota Go Home can continue. But the protesters should also come and engage with us so they are also involved," he said.
Fernando also said that the Prime Minister hopes to include two protesters in the Parliament Oversight Committees.
"We are building a new culture of politics," he said.
Harin Fernando recalled that some of the protesters are calling on all 225 Members of Parliament to go home.
He said that by joining the Oversight Committees, some of these protesters may eventually form a new party. (Courtesy Daily Mirror)