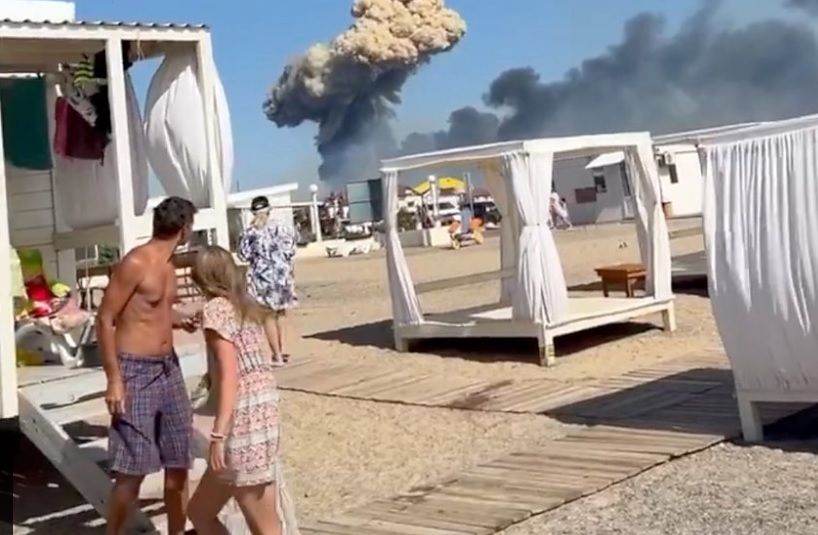 One person has been killed after blasts rocked a military base in Crimea, the head of the Russia-appointed regional administration there said.
Sergei Aksyonov wrote on social media that the blasts had taken place at the Saky military base near Novofedorivka on the peninsula's western coast.
Footage circulating on social media appeared to show multiple explosions.
Russia's defence ministry later said ammunition was detonated, but this has not been independently verified.
The ministry said there was no "fire impact" on the ammunition storage area, Russia's state-run Ria news agency reports.
The Ukrainian peninsula that Moscow annexed in 2014 is a popular destination with Russian tourists, and one video appeared to show visitors fleeing from a beach as smoke rose in the background.
Local witnesses told the Reuters agency that they heard at least 12 blasts, beginning at about 15:20 local time (12:20 GMT).
After arriving in the area, Mr Aksyonov said a 5km (3 mile) no-go zone around the blast site had been established.
Speaking to Dozhd TV channel, Ukrainian presidential adviser Mykhailo Podolyak said Kyiv was not responsible for the explosions.
Earlier, Ukraine's military posted a sarcastic statement on Facebook which hinted at the sinking of the Moskva warship and other military setbacks, reminding Russia of its "fire safety rules and the ban of smoking in unsettled places".
Ukrainian President Volodymyr Zelensky devoted his nightly video address to Crimea, but did not directly mention the explosions.
"Crimea is Ukrainian, and we will never give it up," Mr Zelensky said in a video posted on social media.
The war "began with Crimea and must end with Crimea – with its liberation", he added – suggesting that he believes Ukraine must retake the peninsula before the war can end.
Russia annexed Crimea from Ukraine in March 2014 after a referendum which was seen as illegitimate by the international community. The vote was hastily organised after unmarked Russian troops took control of several strategic locations around the peninsula.
Earlier that year, months of pro-European protests culminated in the ousting of Ukraine's Russian-backed president.
On 24 February this year, Moscow launched a full-scale invasion of Ukraine, using Crimea as a springboard to move Russian troops deeper inside Ukraine.
Novofedorivka and Saky are about 50km (30 miles) north of the port of Sevastopol, home of Russia's Black Sea Fleet, which has been leading a blockade of the Ukrainian coastline. (Courtesy BBC)