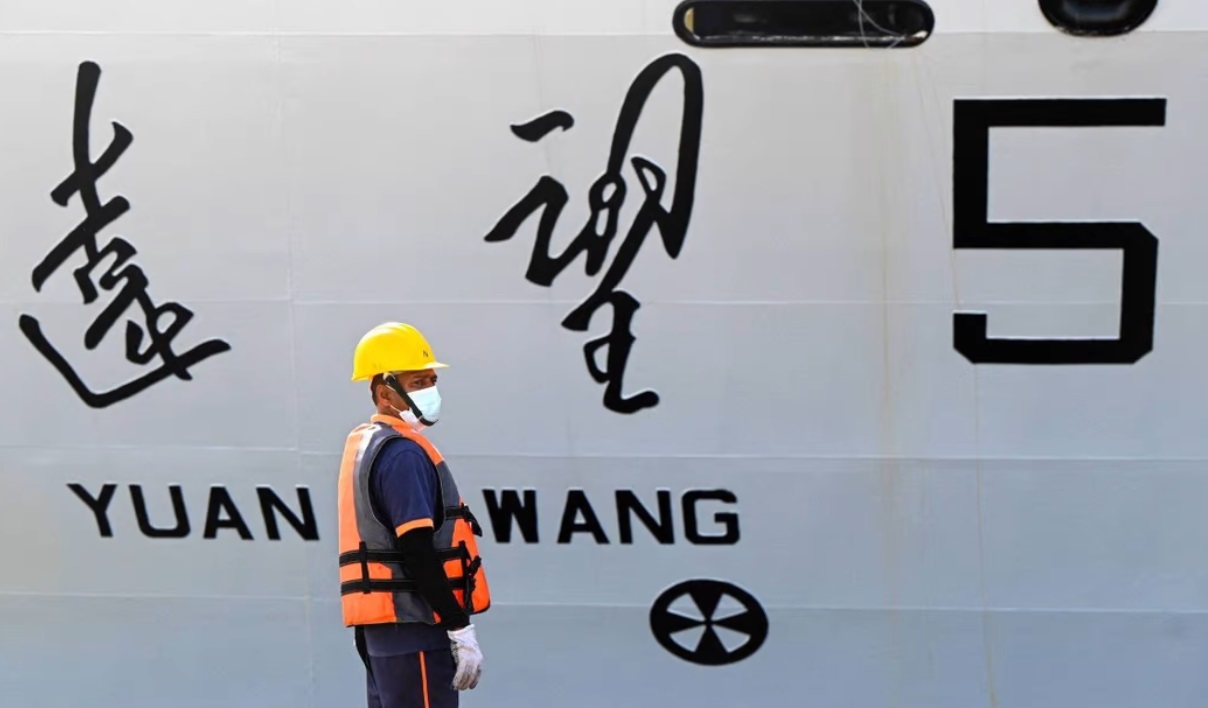 The Chinese research ship Yuan Wang 5 left Sri Lanka's Hambantota port on August 22, sending diplomatic ripples across the Indian Ocean.
The vessel left China on July 12 to carry out routine tracking missions to support the launch of Wentian, a core component of China's space station, according to China's state media Science and Technology Daily.
After the successful launch of Wentian on July 24, the vessel planned to dock at Hambantota on August 11, a port call that was previously deferred because of concerns raised, particularly by India.
The docking of the vessel came at a sensitive time as India conducted trials of several new missiles.
"The Yuan Wang 5 is primarily a satellite monitoring vessel but it is also likely able to gather telemetry data from missile launches … India could have been worried that the Chinese ship would be able to gather data from such tests," said Ridzwan Rahmat, principal defence analyst at Janes.
The docking arrangement might have appeared to be a secret because the Sri Lankan government had said in late July – as it battled a major domestic crisis – it would not allow such a visit.
Yet, regardless of any behind-the-scenes talks between China and Sri Lanka, it epitomises how neighbours distrust China's technological development, according to experts.
The misgivings stem mainly from Yuan Wang 5's controversial dual-use features, according to Rajeev Ranjan Chaturvedy, an associate professor in international relations from Nalanda University in India.
"This surveillance ship is being used by the Chinese military to track satellites and space activities. This sophisticated space and satellite vessel's visit was a cause of concern because of its advanced features to collect sensitive information," Chaturvedy said.
Yuan Wang 5's main mission is to work with China's manned space programme, moon and Mars exploration and construction of the Beidou navigation satellite system.
The ship has completed more than 80 maritime tracking missions in the past 15 years, sailing more than 570,000 nautical miles and berthing at a number of international ports, according to Xinhua.
It docked at Indonesia's Tanjung Priok port for seven days to restock and maintain equipment in July 2013, after performing tracking duties for the rendezvous of the Shenzhou-10 manned spacecraft and Tiangong-1 space lab.
While the vessel consistently carries out duties to support China's space exploration programme, the possibility of it having other roles and functions has sparked concern.
A US Defence Department report published last year framed the vessel as having the ability to conduct cyber, electronic, information, communications and psychological warfare missions.
Timothy Heath, a senior analyst from the think tank Rand, said countries distrust Chinese vessels for the same reason they distrust Chinese tech companies such as Huawei Technologies, or port construction firms – because they can carry out national security duties despite being "civilian" platforms and companies.
"China prefers dual-use ships, platforms and capabilities because this allows China to carry out defence and intelligence-related activities in a low profile manner.
"This is important to China because it lacks military bases abroad where it can carry out defence activities overtly. Operating dual-use capabilities in 'civilian' ports allows China to carry out defence missions without needing military bases," Heath said.
This further shows a Chinese development dilemma. China's expansion of ports around the world under its Belt and Road Initiative – which helped rejuvenate some European ports such as Greece's Piraeus – has already attracted suspicion and harsh criticism.
The Hambantota port, where the Yuan Wang 5 has docked, is one example.
Signed in 2017 by the previous Sri Lankan government to cover its debts to China, Hambantota has been the subject of intense international scrutiny amid accusations that Beijing is using "debt trap diplomacy" for geopolitical clout.
"China is building port facilities and logistics support facilities in India's neighbourhood which are more driven by strategic considerations. And the Yuan Wang 5's visit is a clear demonstration of China's growing strategic access," Chaturvedy said.
As the world's leading technological power, the US did not have this issue, said Heath, because it had overseas military bases and allies who understood that the US would carry out defence, military and intelligence missions in their countries.
"The overt nature of the US presence means there is less concern about dual use. However, the US must deal with the politics of overseas bases and military presence, which some countries resent and try to constrain," Heath said. (SCMP)