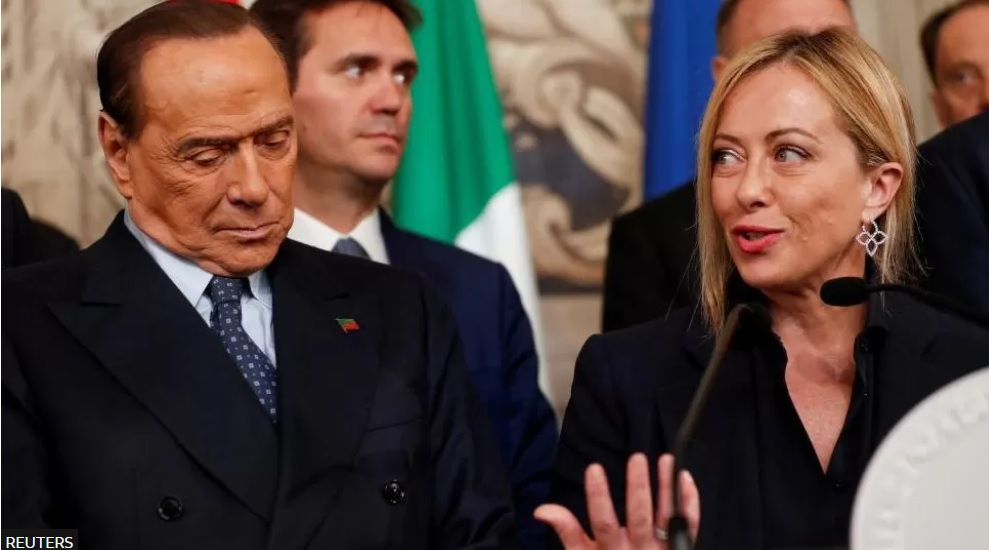 Italy's far-right leader Giorgia Meloni and her coalition allies have met President Sergio Mattarella and say they are ready to form a government "as quickly as possible".
He is set to ask Ms Meloni in the coming hours to become prime minister.
Veteran ex-Prime Minister Silvio Berlusconi attended the brief talks, despite shaking the coalition's unity with leaked pro-Putin remarks.
Ms Meloni has sought to assure Italy's Western allies nothing will change.
The Brothers of Italy leader could be sworn in as early as this weekend as the country's first female prime minister – and first far-right leader since World War Two. She said her coalition of right-wing and far-right parties was unanimous that she should lead Italy.
Ahead of Friday's 11-minute meeting, she said they were "ready to give Italy a government that confronts with awareness and competence the urgency and challenges of our time".
Less than a month after Italians voted for a new Senate and Chamber of Deputies, she is set to replace Mario Draghi, who was due to return from an EU summit on Friday.
Alongside Ms Meloni at the presidential palace were Matteo Salvini of the far-right League (Above R) and Mr Berlusconi (L) – the 86-year-old head of centre-right Forza Italia – who for days has been at the centre of a row surrounding two leaked recordings underlining his pro-Putin views.
In the first audio leak, he was heard boasting that Russian President Vladimir Putin had sent him 20 bottles of vodka for his birthday and called him "number one among his five best friends".
Then, in a leaked speech to party colleagues, he backed Russia's pretext for its war, baselessly blaming Ukraine's president and the West for pushing the Kremlin into an invasion.
He insists his remarks were taken out of context and that he backs the Italian and EU position on Ukraine. However, his pro-Putin comments are nothing new: last month he told Italian TV that Russia's leader had merely sought to replace Volodymyr Zelensky with a "government of decent people".
The leaks piled pressure on Giorgia Meloni, 45. Her other far-right ally, League leader Matteo Salvini, has also long been seen as a Putin admirer, but Ms Meloni needs both men in her coalition to form a majority. (Courtesy BBC)