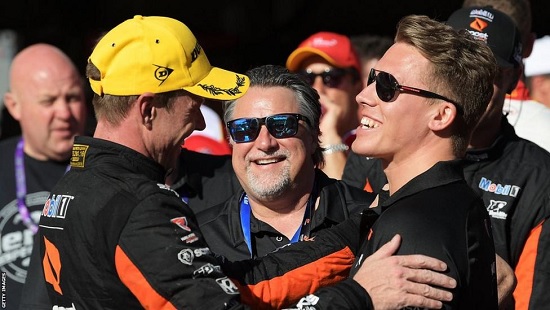 The American Andretti Global team have joined forces with US car giant General Motors with the intention of entering Formula 1.
A joint statement said that GM would be represented by its luxury Cadillac brand should their bid be successful.
Andretti Global chairman Michael Andretti said: "We are well suited to be a new team for F1 and can bring value to the series."
Andretti said he was "seeking to compete as soon as practical".
And he said he wanted "at least one American driver."
The prime candidate for that seat would be IndyCar driver Colton Herta, who races for Andretti, has F1 aspirations, and missed out on a seat this year with Red Bull's Alpha Tauri team only because he did not have sufficient licence points to qualify.
Cadillac chairman Mark Reuss said: "We have a long, rich history in motorsports and engineering innovation, and we are thrilled with the prospect of pairing with Andretti Global to form an American F1 team that will help spur even more global interest in the series and the sport.
"Cadillac and F1 both have growing global appeal. Our brand has a motorsports pedigree that's more than a century in the making, and we would be proud to have the opportunity to bring our distinct American innovation and design to F1."
Andretti is one of the most famous names in global motorsport – Michael's father Mario won the 1978 F1 world title and Michael is a former F1 driver. Both are among the most successful American racing drivers in history.
And GM is one of the world's largest car makers, and an icon of American industry.
But Andretti and Cadillac will have to go through a formal F1 process and there is understood to be no prospect of the team entering before 2026.
Mohammed Ben Sulayem, the president of F1's governing body the FIA, earlier this week said he was planning to launch a formal process for expressions of interest for prospective new teams in F1.
Ben Sulayem said on Thursday in the wake of the Andretti/GM announcement: "I welcome the news of the Cadillac and Andretti partnership and the FIA looks forward to further discussions on the FIA F1 World Championship expressions of interest process."
Commercial rights holders F1 would also have to approve the new entry.
An F1 statement said: "There is great interest in the F1 project at this time, with a number of conversations continuing that are not as visible as others.
"We all want to ensure the championship remains credible and stable and any new entrant request will be assessed on criteria to meet those objectives by all the relevant stakeholders.
"Any new entrant request requires the agreement of both F1 and the FIA."
Andretti has already tried to enter F1 once, failing in a bid to buy the Sauber team in 2021, and Michael Andretti has expressed frustration at F1's apparent disinterest in his application.
F1's contracts with the teams dictate that any new entrant has to pay a $200m fee to be split between the existing teams aimed at off-setting any prize money loss for the current competitors.
The teams split F1's prize money pot according to formula based on their current and historic success.
Alpine and McLaren are the only teams who have expressed positive views about a potential Andretti involvement. Others have previously questioned whether they would meet the competitive standard to be a benefit to the championship.
The involvement of a leading car company such as GM is likely to weigh heavily in Andretti's favour.
Speaking in a press conference on Thursday Andretti said: "One of the big things was: 'What does Andretti bring to the party?' Well, we're bringing one of the biggest manufacturers in the world now with General Motors and Cadillac.
"We feel that that was the one box we didn't have checked that we do have checked now.
"We've put in a tremendous amount of support to F1 and it's hard for anyone to argue that now."
There was no detail in the announcement about the team's plans for an engine, although they will initially buy one in.
The team will be based at Andretti's racing headquarters in Indiana, but will have a European satellite base.
F1 is introducing a new engine formula in 2026, retaining turbo hybrid engines but significantly increasing the proportion of power produced by the electrical part of the engine and using synthetic, fully sustainable fuels.
There will already be one new competitor in 2026, following Audi's purchase of the Alfa Romeo/Sauber team.
Audi is producing a new engine for the new formula for its formal entry in 2026, but is already in the process of taking over Sauber and has installed former McLaren team principal Andreas Seidl as the team's new chief executive officer, charged with ensuring they are in as competitive a shape as possible in four years' time. (BBC)