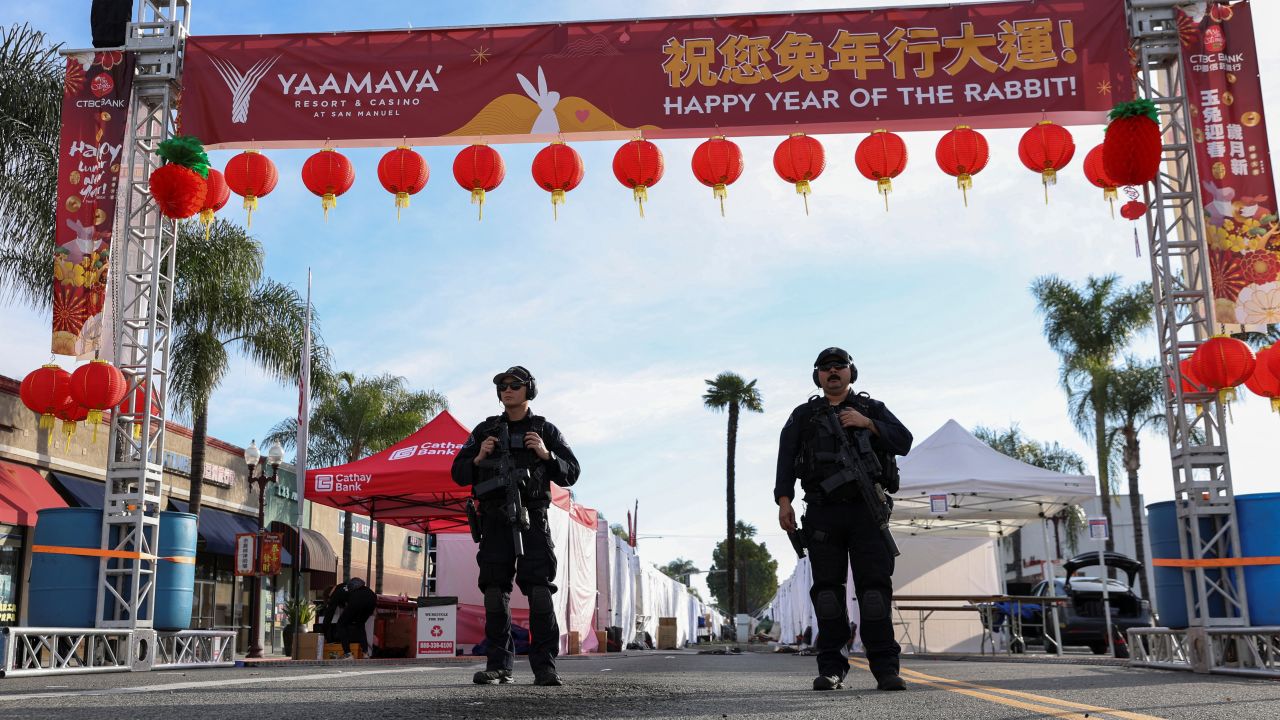 The man wanted for a mass shooting in California during Lunar New Year is dead, apparently from suicide, police in Los Angeles said on Sunday.
Los Angeles County Sheriff Robert Luna said police had tracked a wanted van and when officers approached, they heard one gunshot from within the van.
"The suspect sustained a self-inflicted gunshot wound and was pronounced dead at the scene," Mr Luna said.
The man was named as 72-year-old Huu Can Tran.
"I can confirm that there are no outstanding suspects from the mass shooting incident," Mr Luna said, adding the motive for the attack, which left 10 people dead, was not yet known.
"The investigation is still ongoing. Sheriff's homicide detectives are working around the clock gathering additional information and working on determining the motive behind this extremely tragic event," he said.
California police broke into the van after a lengthy stand-off earlier Sunday, where images showed a body slumped in the driver's seat.
The hunt began 12 hours earlier after a man – described by police as Asian – began firing at a club in Monterey Park, a city in Los Angeles County with a large Asian community.
Witnesses said he had fired indiscriminately, and appeared to be heavily armed.
At least 10 other people were wounded, some of them critically.
Los Angeles County Sheriff Robert Luna said police responded to emergency calls just after 10pm on Saturday (2pm on Sunday, Singapore time) and found people pouring out of the premises.
"Unfortunately," he added, paramedics "did pronounce 10 of the victims deceased at the scene".
Five of the dead were women and five men, officials said, without providing ages or names.
The police stand-off around a van began late Sunday morning in Torrance, south of Los Angeles, with the Los Angeles Times reporting shots had been fired at the scene.
It culminated with heavily-armed officers, supported by armoured vehicles, swarming the white panel van, smashing the passenger side window with their weapons raised.
AFP photographs from the scene taken after the operation show the body of a man in the driver's seat.
Photos released by the Los Angeles County Sheriff's Department of their key suspect showed an Asian man wearing a beanie hat and glasses.
Monterey Park, only a few miles from downtown Los Angeles, is home to around 60,000 people, the majority of them Asian or Asian American.
"We don't know if this is specifically a hate crime defined by law," Mr Luna said, "but who walks into a dance hall and guns down 20 people?"
US President Joe Biden tweeted that he and his wife Jill were "praying for those killed and injured in last night's deadly mass shooting in Monterey Park," adding, "I'm monitoring this situation closely".
He ordered all US flags at public buildings to be flown at half-mast until sunset on Jan 26 to honour the victims.
The shooting was the deadliest in the US since a shooter in Uvalde, Texas killed 22 people at an elementary school last May.
Monterey Park resident Wong Wei told the Los Angeles Times his friend had been in the dance club's bathroom when the shooting erupted.
When she emerged, she saw a man carrying a long gun and firing indiscriminately. The bodies of two women and a man lay on the floor.
The paper reported that Mr Seung Won Choi, who owns a nearby restaurant, said three people had run into the establishment and told him to lock the door.
The three told Mr Choi there was a man with a semi-automatic gun who had multiple rounds of ammunition and repeatedly reloaded.
Tens of thousands of people had gathered earlier for the two-day Chinese New Year festival, one of the area's largest. Events planned for Sunday were cancelled after the attack.
"My heart is broken for the victims, their families, and the people of my hometown," Representative Judy Chu, a former mayor of Monterey Park, said on Twitter.
Ms Chu had been at the scene, joining the festivities hours before the shooting, when the crowd was still large. "This could have been so much worse," she said.
Officials said detectives were reviewing surveillance video and did not yet know whether the suspect was targeting a particular group.
The US Department of Justice said there were over 7,000 reported hate crimes in the United States in 2021, two-thirds of them race-related.
Gun violence is a huge problem in the United States, which last year saw 647 mass shootings, with at least four people shot or killed by a shooter, according to the Gun Violence Archive website.
In addition to the California shooting, 12 more people were injured in a shooting at a nightclub overnight in Louisiana, local media reported.
More than 44,000 people died from gunshot wounds in 2022 across the United States, more than half of which were suicides. AFP