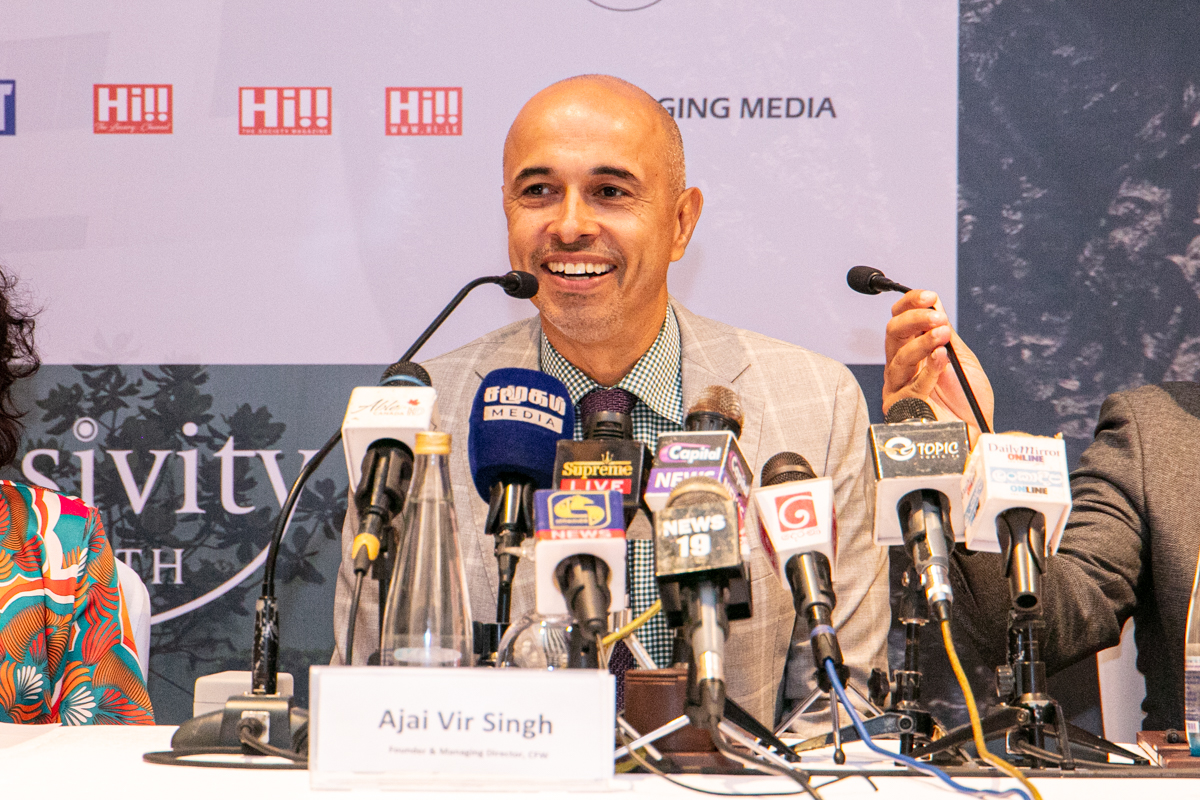 A journey that started in 2003, completes an important milestone two decades later. From a handful of designers and with little aspiration for the younger generation to pursue fashion as a career, to an eco-system that promotes sustainable fashion and design, its been a journey of interesting ups and downs.
From pre-war to post, there were opportunities that created pathways for young Sri Lankan designers to follow. Today more than 80% of designers we see are the product of CFW design development platform.
Since 2012, Colombo Fashion Week has actively developed and followed sustainable fashion paradigm, it started with the Ethical fashion day, the Responsible Fashion Summit and the sustainable tool, the Responsible Meter that was introduced in 2020. The efforts of last 11 years makes this platform one of the most sustainable platforms in the world. Over the years high profile designers from Europe, Australia and Asia have shown here. It is also popularly known as South Asian Fashion Week as it shows designers from Pakistan, India, Sri Lanka and Bangladesh, to name a few- Tarun Tahiliani, David Abraham, Agatha Ruiz de La Prada, Gaetano Navarra, Rohit Bal, Gaurav Gupta, Rajesh Pratap Singh, Payal Pratap, Suneet Varma, Rizwan Beyg, Suket Dhir, Urvashi Kaur and they showed along important Sri Lankan designers like Dimuthu Sahabandhu, Amilani Perera, Charini Suriyage, Indi Yapa Abeyawardhena, Darshi Keerthisena (Buddhi Batiks), KT Brown, Sonali Dharmawardena.
This interaction with international designers was also intended to encourage knowledge sharing with the fashion design industry of Sri Lanka.
With the aim of empowering the fashion design industry, CFW 2023 is set to take fashion to new heights.
"In the last 20 years, among other things, CFW has brought Pride in Sri Lankan fashion, this aspect was missing when we started, today Sri Lankan designers are household names and their creations fill wardrobes. A sustainable eco system has been created which gives hope and aspires younger generation to pursue design as a career. Design entrepreneurship is what we are focused on with a goal to reverse brains drain. I am so grateful to all our partners in buying into our vision and staying with us through think and thin. Creative industries must flourish as they create soft power for Sri Lanka." Says Ajai Vir Singh, Managing Director CFW Holdings.
This year brings forward an environment that demands innovations and creativity to move to the next level, as Sri Lankan economy looks towardsfor revival after a year of turmoil. HSBC Emerging Fund has been instrumental in supporting 5 new design talent to sustain themselves along with the Italy Award, that created opportunities for a new designer.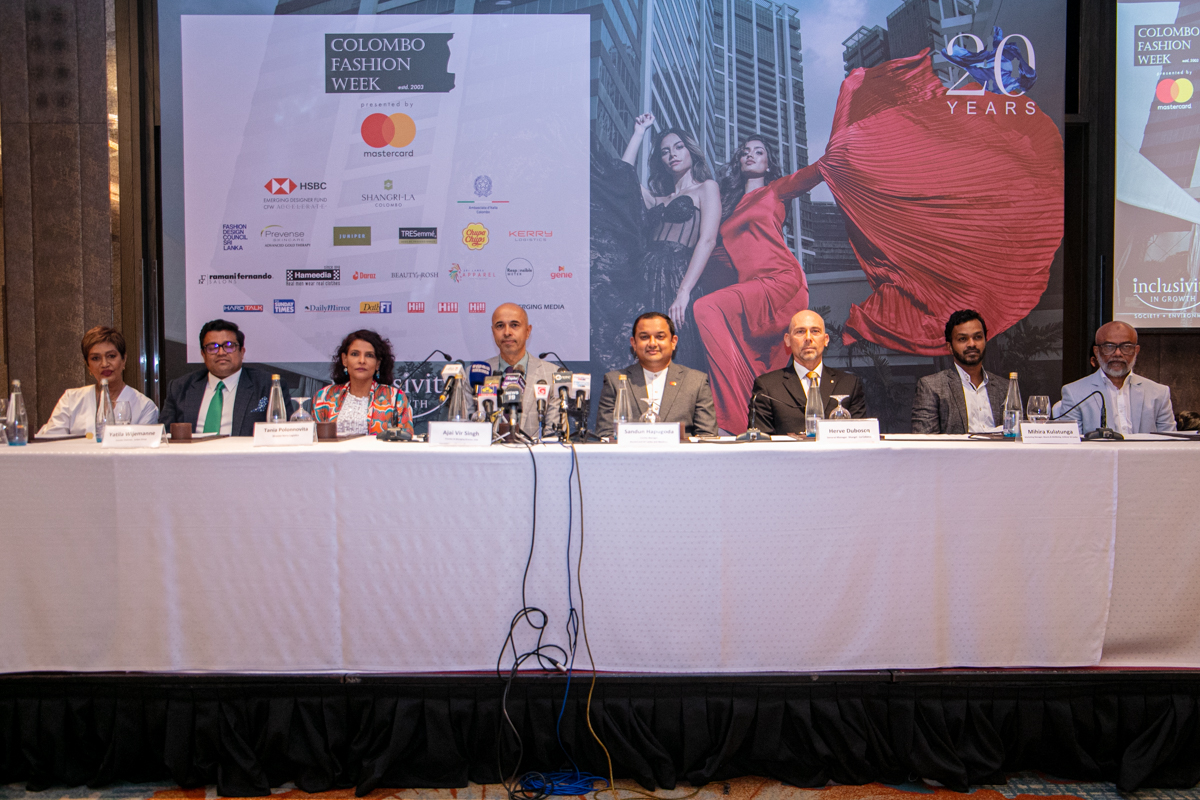 In this edition there will be 30 Sri Lankan and international designers showcasing, such as Darshi Keerthisena of Buddhi Bartkisk, Charini Suriyage, Dimuthu Sahabandu, Sonali Dharmawardena, Amilani Perera, Fouzul Hameed, Indi Yapa Abeywardena, Asanka De Mel and many others.
The Show dates begin from the 29th of March to the 2nd of April 2023.
CFW celebrates a start of an important new collaboration with the globally reputed brand Mastercard. Their vision to digitize sustainably by year 2025 and nurture and support SME's aligns with the vision of CFW.
CFW's official host hotel, Shangri – La Colombo, one of the foremost hospitality brands in the world and in Sri Lanka will be the partnering this year as well.
The Embassy of Italy has instituted an important award to identify and support a high potential young designer. It's the ITALY AWARD in its second year under the leadership of Her Excellency Rita Manella.
Also joining the 20 years journey, Kerry Logistics has joined hands with CFW. Kerry Logistics network is a highly diversified portfolio with the strongest coverage in Asia.
Adding more, Tresemme returnsthis year also as the Official Hair Care Partner for CFW Summer 2023.
Another partner who is joining hands this year is Juniper group which offers a unique real estate and financial investment portfolio.
The iconic Ramani Fernando has been part of this journey since inception as the Official Hair and Make-up Partner and has been a friend in Fashion to all Colombo Fashion Week initiatives. This year too, Hameedia continues to extend its longstanding affiliation with CFW. Chupa Chups by Perfetti joins us as our lifestyle confectionary brand.
Also joining us this year are ; Official skincare partner – Prevense by British cosmetics , Responsible Fashion summit partner -JAAF Joint Apparel Association Forum, Digital technology and Retail Partners -Daraz and Dialog Genie, Wijeya Newspapers, Hardtalk (PVT) Ltd and Emerging Media