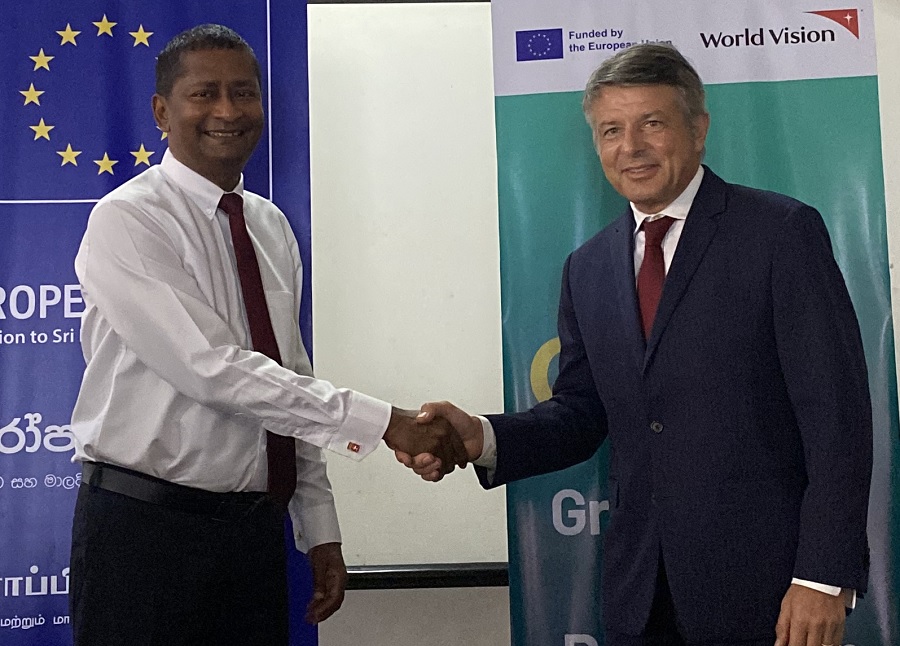 The European Union together with its implementing partner World Vision has launched a socio-economic recovery project in Sri Lanka.
GRACE (Grassroots Conflict Prevention) was launched at the Divisional Secretariat in Wattala, the EU said.
Wattala is one of the many communities that will benefit from the grant of 2 million Euros over an 18-month period. The other areas of intervention will include Kalpitiya, Nawagaththegama and Mundalama (Puttalam District) and Ja-ela (Gampaha District).
Set in the broader context of EU support towards the socio-economic recovery in the aftermath of the COVID-19 pandemic and the subsequent economic crisis, the GRACE project will support over 130,000 individuals including women and young people with training on conflict resolution and improve their income opportunities.
Speaking at the launch, Denis Chaibi, EU Ambassador to Sri Lanka and the Maldives stated, "Sri Lanka is in the midst of a severe crisis, which hits certain Sri Lankans harder than others. This is why the EU is working with World Vision to identify those most affected. Within these communities, the EU is paying particular attention to women and young people for them to fully contribute to cohesion efforts. We will also work with natural mediators to mitigate the risk of tension due to the economic crisis. We will also provide support to small and medium enterprises to create new employment opportunities for the many rather than the few"
The project will build on the medium to long-term assistance, also focusing on the promotion of early warning and conflict transformation, violent conflict resolution and economic stabilisation of vulnerable households. It will also engage faith leaders through trainings and community dialogues.
"The past few years have been very challenging for vulnerable communities," says Dr. Dhanan Senathirajah, the National Director of World Vision Lanka. "People can no longer afford food for their families and schooling for their children, which brings them higher levels of distress. World Vision Lanka welcomes this new project which looks to support families with their income opportunities and aims to build social cohesion." (Colombo Gazette)