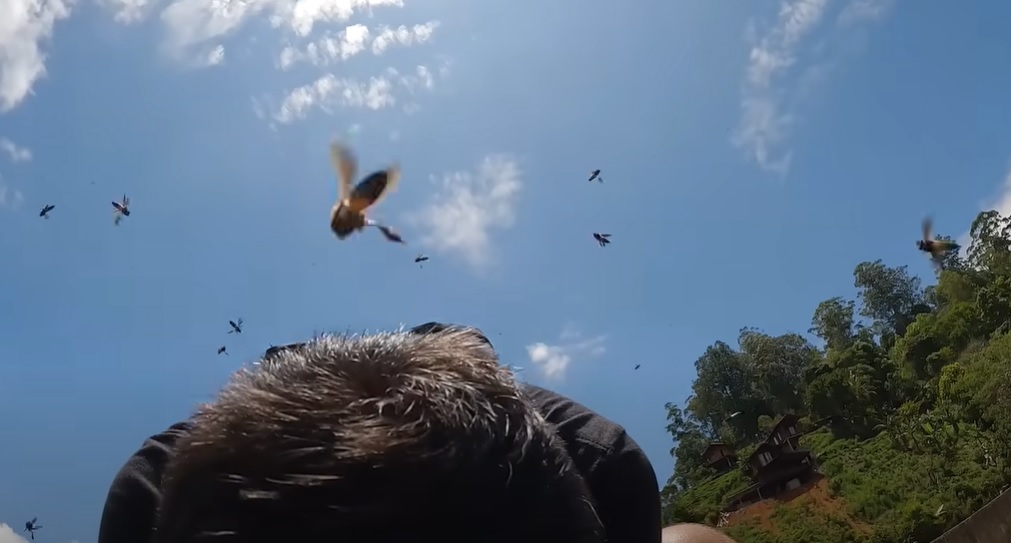 A video of a South African couple being attacked by bees on the Nine Arch Bridge has gone viral.
Leanne and Dan are seen walking along the bridge when they and others come under attack by bees.
Dan, who captured the entire incident on video, is heard telling his wife not to run and to stand still.
However, she and others around her run while being attacked by the bees.
Dan is seen going down to the ground and trying to protect himself from the bee attack but is stung several times.
He then runs and seeks protection from a fire lit by some of the locals.
"This was our worst travel experience. We were attacked by a swarm of bees on the 9 Arch Bridge in Elle, Sri Lanka. Before visiting this famous tourist destination, we had never heard of the bee hives under the bridge. There was not only 1 hive… but 4 hives under the arches. The bees inside these hives were giant honey bees, which are twice the size of a normal honey bee. When we were attacked, we ran to the opposite side of the bridge, leaving us apart for 30 minutes without any communication. We were also rushed to hospital as I (Daniel) was stung over 50 times, and Leanne was stung over 30 times," they said in the video posted on YouTube.
Leanne and Dan said that they wish there were warning signs and hope no one else has to experience what they went through.
They also thanked the locals who helped them during the incident. (Colombo Gazette)