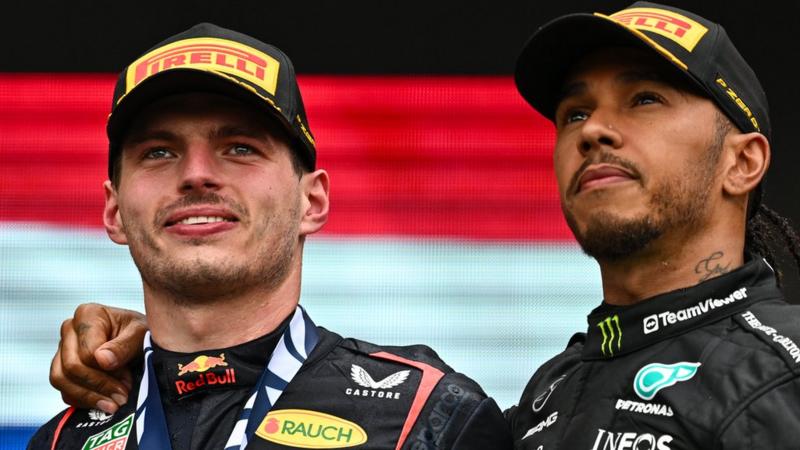 Lewis Hamilton says Formula 1 should consider further restrictions on car development to stop teams building long periods of domination.
He said teams with superior cars can start work on their next design earlier than rivals as they need to spend less resources on the current season.
"If everyone had a time [to start on the next car], no-one has a head start and then it's a real race," he said.
"Maybe that would help everyone be closer the following year."
F1 has already introduced a package of rules aimed at closing the field over time, including a sliding scale of research and development time which favours the weaker teams over the more successful ones.
Red Bull are this year facing an extra restriction on permitted development as punishment for exceeding the budget cap in 2021.
Hamilton said such a cycle of dominance was something he enjoyed with Mercedes from 2014-2020, and emphasised his comments were "not aimed at one person".
He said: "In my 17 years of being here, even before I got here, you would see periods of dominance and it continues to happen.
"I was very fortunate to have one of those periods and Max [Verstappen] is having one now.
"With the way it's going, it will continue to happen over and over again, and I don't think we need that in the sport.
"When you are so far ahead, 100 points ahead, you don't really need to do a lot of development on your car so you can start earlier on your next car. And with the budget cap that means spending that year's money on next year's car.
"Something has got to change because when we were winning championships, we could start earlier than everyone else.
"It would be cool to see in the next period if we don't have huge bands of time when one team is ahead because we want to see better racing."
Verstappen has won six of the eight races so far this season and his Red Bull team all of them. He leads the championship by 69 points heading into this weekend's Austrian Grand Prix.
The Dutchman said: "Life is unfair as well. It's not only in F1. We just have to deal with it."
He added: "We weren't talking about that when he was winning his championships, right? So I don't think we should now."
Hamilton said upgrades to his Mercedes in recent races were "a step in the right direction" and that the car was "starting to feel like a real racing car".
But he added that its behaviour still needed to be improved and that he was still not able to drive it on the limit.
"You have to have confidence in the stability of a car," Hamilton said.
"You have to have confidence that when you carry 150-180mph into a corner, the car will be with you and support you through that.
"The past year's car has been so spiteful in that space. So you really then have to pull back – you can't get near the limit.
"The changes and direction we're going has enabled me to start to explore that more and have more confidence in pushing closer to the limit, but I am still not able to get to the limit so we still have to make some more changes.
"Ultimately, there are fundamental changes that have to change for next year, and I have been asking for it for over a year, and I expect to have that in the future which will definitely help."
Mercedes have more new parts coming for the British Grand Prix next weekend, but at the Red Bull Ring this weekend a lot of attention will be on McLaren, who are introducing what their team boss Andrea Stella has called a "milestone" development.
McLaren said before the season even started they had missed their development targets with this year's car and would have a difficult start to the campaign.
Their first upgrade was at the fourth race of the season, and Austria marks the start of a three-step development to be introduced over the next three.
The new parts will be fitted only to Lando Norris' car in Austria, before team-mate Oscar Piastri receives them at Silverstone.
Norris said that the sprint race format being used in Austria, which gives teams only one practice session before they have to lock down their car specification for the weekend, made life more difficult for McLaren.
"Got some new bits on my car and so on, but it's a sprint race weekend so not the easiest days coming up," he said.
"Of course exciting ones as well, but not a lot of time to look into things and assess them and keep everything under control. It is going to be tough, but we still think it's the best thing to do. I am looking forward to it.
"This was all meant to come for Silverstone, so the fact we have some of it, not even all of it, is already going to be a good step forward.
"It's our first upgrade of the season, really, for performance. The upgrade in Baku was not a performance deliverer. This is the updated version of what we had there. I have confidence it's a decent step." (BBC)