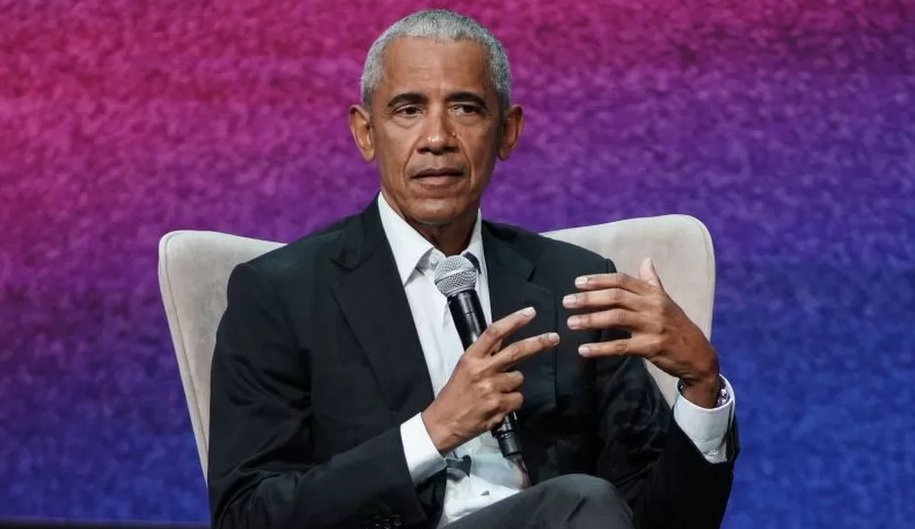 Leaders of India's governing party have criticised former US President Barack Obama for his recent remarks on Muslims in the country.
Mr Obama said in an interview last week that India may "start pulling apart" if the rights of minorities weren't protected.
He was responding to a question on how President Joe Biden should engage with "illiberal democrats".
Indian Prime Minister Narendra Modi was in the US on a state visit at the time.
The three-day visit was marked by a ceremonial welcome to the White House, a lavish state dinner and the signing of several crucial deals. Mr Modi also addressed a joint session of the US Congress.
Mr Obama's remarks, made in an interview with CNN's Christiane Amanpour which was aired before the Congress address, were widely reported in India.
Ms Amanpour referred to the "threat to democracy" from so-called "illiberal democrats" before referring to Mr Modi as one.
"How should a president engage with those kinds of leaders, either in the naming of them or in the dealing with them?" she asked.
Mr Obama said it was "complicated", before referring to his own experience dealing with allies who may not have run "ideally democratic governments" but with whom relations had to be maintained for a number of reasons. He added that it was "appropriate" for the US president, when possible, to challenge "trends that are troubling" either in public or private.
"If the president meets with Prime Minister Modi, then the protection of the Muslim minority in a majority Hindu India – that's something worth mentioning. If I had a conversation with Prime Minister Modi, who I know well, part of my argument would be that if you do not protect the rights of ethnic minorities in India, then there is a strong possibility that India at some point starts pulling apart," he said, adding that that would be contrary to India's interests.
Mr Obama shared a warm relationship with Mr Modi while in office.
Indian finance minister Nirmala Sitharaman, who like Mr Modi is from the Bharatiya Janata Party (BJP), told reporters on Sunday that she was "shocked" by Mr Obama's comments.
"When Mr Modi was campaigning in the US – and by campaigning I mean speaking about India – a former US president was speaking about Indian Muslims."
She went on to say that India wanted good relations with the US but "there too we get remarks about religious tolerance in India".
Ms Sitharaman added that the US had bombed Muslim-majority countries including Syria and Yemen while Mr Obama was in power.
Defence minister Rajnath Singh also reacted to the remarks on Monday, saying that India has never discriminated against people on the basis of their religion.
"People should try to understand India's secular character," he said, adding that people commenting on India's minority rights should "also think about how many Muslim countries they have attacked".
Mr Obama and the US have not publicly commented on these remarks.
In the US, Mr Modi received a warm welcome from business leaders and members of the large and influential India diaspora that includes many Silicon Valley CEOs. However, there were also protests against his government – which is led by the Hindu nationalist BJP – which has been accused of not doing enough to protect minorities from violence and discrimination.
During his visit, 75 Democrats wrote a letter to Mr Biden, urging him to raise human rights issues with Mr Modi. Some of them, including representative Alexandria Ocasio-Cortez, boycotted his address to Congress.
At a joint press conference with Mr Biden, Mr Modi also said that there was "no space for any discrimination" under his government, in response to a question on rights of Muslims and other minorities in India.
On Sunday, Mr Modi tweeted his agreement with Mr Biden's remarks on the friendship between the two countries being among "the most consequential in the world".
The federal ministers' comments came days after a tweet by a BJP chief minister sparked a controversy.
Assam chief minister Himanta Biswa Sarma tweeted that there were many "Hussain Obama in India itself" who needed to be taken care of. He was responding to a journalist's sarcastic tweet asking whether a case had been filed against Mr Obama for "hurting sentiments" with his remarks on India.
Mr Obama's full name is Barack Hussein Obama II.
Some opposition politicians accused Mr Sarma of issuing a "veiled threat" to India's Muslim population.
Political scientist Ashutosh Varshney told the Washington Post that Mr Sarma's tweet mentioning Mr Obama's middle name was a way of "twisting" his remarks into ones "made by a Muslim" even though the former president does not practise Islam.
After the controversy, Mr Sarma told the Indian Express newspaper that he stood by his tweet. (BBC)