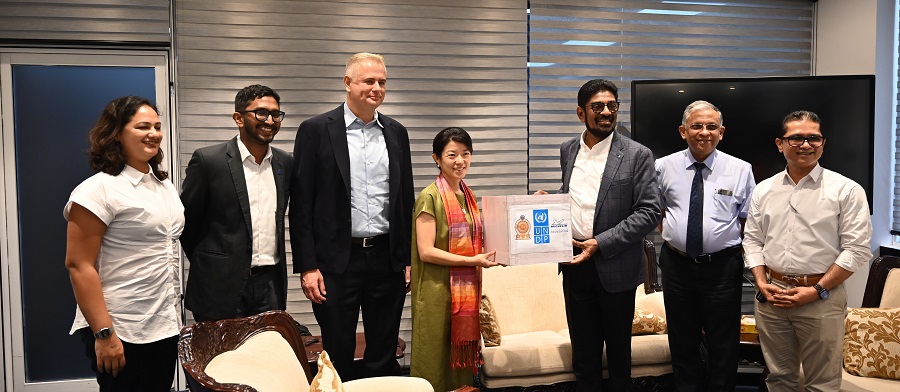 The United Nations Development Programme (UNDP) in Sri Lanka and Michelin Foundation have partnered to procure essential medicines for Sri Lanka.
The medicines were handed over to the Ministry of Health this morning, in the presence of Keheliya Rambukwella, Minister of Health, and Dr. Anver Hamdani, Director Medical Technical Services, Coordinating In Charge/ COVID-19, Ministry of Health by Ms. Azusa Kubota, Resident Representative, UNDP in Sri Lanka, and Koenraad Pringiers, CEO of Michelin Lanka (formerly Camso Loadstar) with the participation of wider representatives from partner organizations.
Speaking on the timeliness of the procurement of medicines, Keheliya Rambukwella, Minister of Health commented, "The Ministry of Health is grateful for the support provided in the procurement of life saving medicines at a crucial time for the people of Sri Lanka, as a part of the Ministry's efforts to address the shortage of medicines through such collaborative efforts."
Although significant steps have been taken to curb the identified gaps, the supply shortage within the domestic healthcare market has been persistent since 2022. According to the Ministry of Health, there is a shortage of over 100 types of drugs in government hospitals, and many vital and essential medicines in the private and public sectors are out of stock.
Highlighting the role of UNDP in facilitating processes to strengthen the healthcare sector in Sri Lanka, Ms. Azusa Kubota, Resident Representative, UNDP in Sri Lanka stated, "Through the multi-sectoral platform which UNDP spearheaded, partners such as the Michelin Foundation came quickly together to respond to the acute needs of the people of Sri Lanka during these critical times. We are very grateful for the trust given to us by the Michelin Foundation to deliver on their needs. UNDP's extensive global procurement network made it possible for us to deliver medicines with efficiency and speed."
Commenting on the role of the private sector in supporting public sectors, Koenraad Pringiers stated, "Michelin Lanka has a 40-year history in supporting the communities of Sri Lanka with various CSR projects that have benefited thousands of people. We were happy to partner with the UNDP in procuring the medicines and thank the Michelin Corporate Foundation for the grant and patronage, further cementing the close relationship the group has with the country. Sri Lankans are resilient, and we hope to emerge out of these difficult times, and we are happy to support this project."
This follows previously procured essential and non-essential medical supplies through UNDP's Facility that was set up to address needs that have arisen due to the ongoing socio-economic crisis, while working together with partners from the Private Sector. (Colombo Gazette)