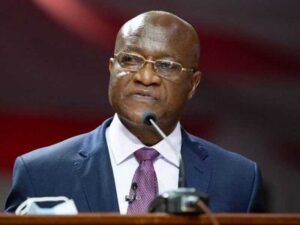 Ghana majority leader has blamed Sri Lanka's Central Bank for the economic crisis in the island.
The Majority Leader in Ghana's Parliament, Osei Kyei-Mensah Bonsu, said there is no part of the Constitution that mandates the Bank of Ghana to report all its activities and transactions directly to Parliament.
He said the obligation of the central bank directly to Parliament was to present foreign exchange receipts to the House periodically, something the BoG had always complied to.
The Bank of Ghana posted significant losses of GH¢60.81 billion for the 2022 financial year as result of its decision to take a hit for the country by taking a 50 per cent haircut in the domestic debt exchange programme (DDEP).
This decision appears not to sit well with some section of the public, with the Minority in Parliament calling for the resignation of the Governor of the central bank because they believe the BoG should have gotten Parliamentary approval before writing off those debts owed by the government.
But responding to this, Mr Kyei-Mensah Bonsu, said in an interview that was not a constitutional requirement as the BoG reported directly to the Ministry of Finance and not Parliament.
He said the Minority Leader should know better because he has been a Deputy Minister of Finance before and has been on the board of the BoG and therefore knows how the central bank operates.
"So if you politicise issues of the BoG, it is not good for the country.
There is no law that mandates the BoG to report its daily activities to Parliament.
"The law only mandates the BoG to report foreign exchange receipts to Parliament and the BoG has always complied with this provision," he stated.
Commenting on the losses posted by the BoG, he said it was either the Minority was over exaggerating issues or have not had time to examine the facts of the matter.
He said the statement from the BoG addressed all the inconsistencies and falsehoods peddled against the institution, noting that the central bank should rather be applauded for coming through for the country.
"Yes, the country went through some difficulties which required that the BoG must intervene.
If not for the international reserves built by the BoG, we would have really suffered."
"The BoG supported the country with about GH¢4 billion of its international reserves to support the situation," he stated.
He noted that Sri Lanka found itself in the same economic situation but because its central bank was not in a position to support, their situation got worse and have still not been able to recover.
"So if our central bank was able to support the country in times of need, we should rather commend them.
The concerns of the minority is misplaced," he said. (businessghana / Colombo Gazette)