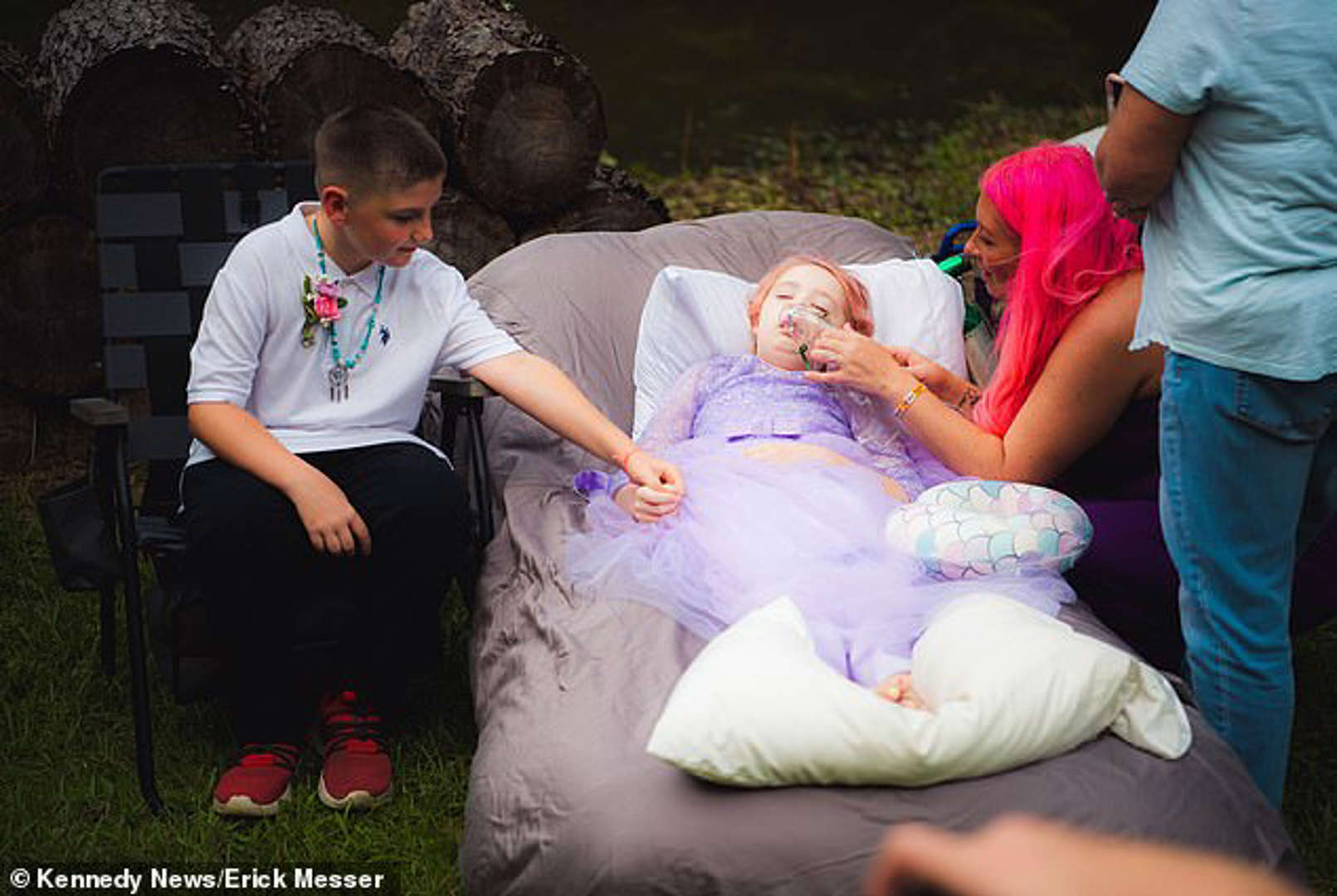 A dying 10-year-old (in the US) whose last wish was to get married 'tied the knot' with her childhood sweetheart – days before passing away from leukemia.
Emma Edwards was diagnosed with acute lymphoblastic leukemia in April last year but parents Alina, 39, and Aaron, 41, said they were hopeful that she'd be able to beat the disease.
But in June the family were given the heartbreaking news that Emma's cancer, an aggressive form that affects white blood cells, was incurable and she only had days to live. Emma sadly passed away on July 11.
Alina said Emma's dream was to marry boyfriend of two years, ten-year-old Daniel Marshall Christopher Williams Junior, also known as DJ, with the pair previously attempting to 'wed' at school during lunchtime when they were eight.
Family and friends decided to band together to make Emma's dream come true and a ceremony was held for the young couple on June 29 where 100 guests turned up to watch them tie the knot.
Aaron walked Emma down the aisle in her gran's garden and their third-grade teacher made a speech about how the pair's relationship began.
Stay-at-home mom Alina, from Walnut Cove, North Carolina, said: 'Most kids want to go to Disneyland but Emma wanted to get married, be a wife and have three kids.
'Their teacher spoke at their wedding and said they tried to have a wedding at recess.
'They had a bridesmaid and groomsmen and kids came to class with clip-on ties. It was really cute but the teacher said there wasn't going to be a wedding in her class.
'When me and DJ's mom found that out, we said we had to let them get married. It had to happen super-fast.' (Courtesy Daily Mail)