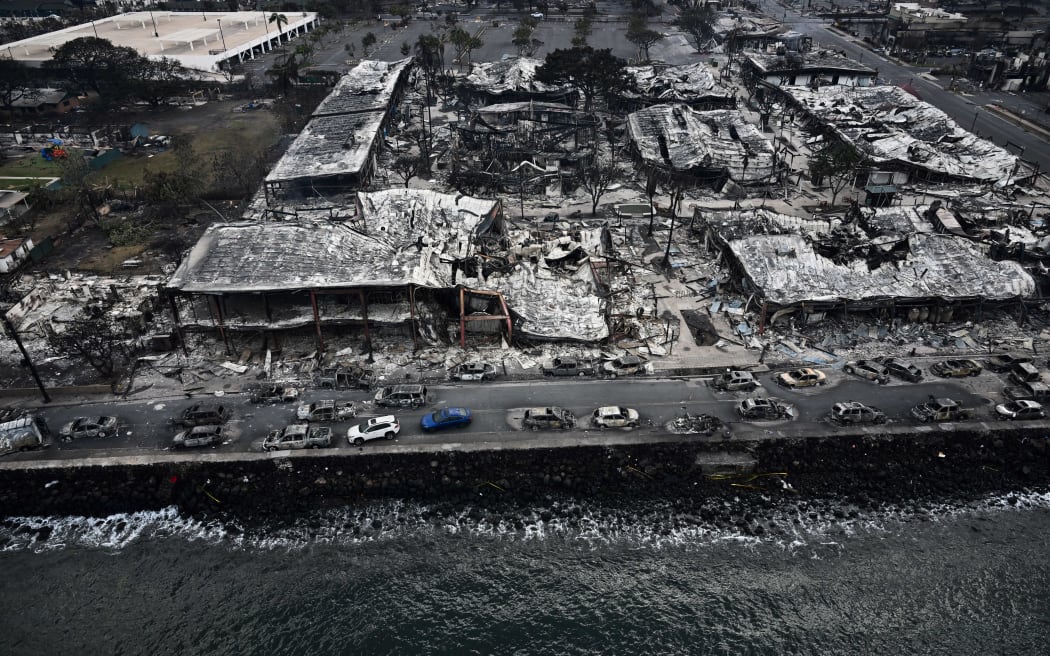 The death toll from a wildfire that has turned the resort town of Lāhainā on Hawaii's Maui island into smoldering ruins has risen to 53, says Maui County.
At least three major fires broke out on Maui on Tuesday night, cutting off the western side of the island and the historic city of Lāhainā, where at least 271 structures were destroyed or damaged.
Many more people suffered burns, smoke inhalation and other injuries. Search and rescue efforts continue, and thousands of people have fled the area, into emergency shelters and off the island.
"As firefighting efforts continue, 17 additional fatalities have been confirmed today amid the active Lāhainā fire. This brings the death toll to 53 people," Maui County said in a statement.
The fires reduced entire neighborhoods to ashes on the western side of the US island. Lāhainā is one of Maui's prime attractions, drawing 2 million tourists to the island each year, or about 80 percent of the island's visitors.
The wildfires took most of Lāhainā's residents and visitors by surprise when they broke out, forcing some jump into the ocean to escape the fast-moving inferno.
Nicoangelo Knickerbocker, a 21-year-old resident of Lāhainā, had just awoken from a nap on Tuesday evening when he saw the fires burning through his hometown. His mother and sister fled, while he and some and friends went to neighbors' houses, helping people pack belongings and fruitlessly trying to stem the flames with garden hoses.
"It was so hot all around me, I felt like my shirt was about to catch on fire," he said from one of the four emergency shelters opened on the island. The shelters are housing more than 2100 people, Hawaii News Now said.
Knickerbocker heard cars and a gas station explode, and soon after fled the town with his father, bringing with them only the clothes they were wearing and the family dog. "It sounded like a war was going on," he said.
At least 20 people suffered serious burns, and several were airlifted to Oahu for medical treatment, while more than 11,000 visitors were evacuated from Maui, Ed Sniffen of the Hawaii Department of Transportation said late on Wednesday.
Though at least 16 roads were closed, the airport was operating fully, he said.
Most of the roughly 400 evacuees at the War Memorial shelter on Thursday morning had arrived in shock, with an "empty look," said Dr Gerald Tariao Montano, a pediatrician who volunteered to work a six-hour shift on Wednesday night.
"Some haven't fully grasped that they lost everything," he said. He pleaded for donations of clothes, supplies, food, baby formula and diapers.
The fires were the worst disaster to befall Hawaii since 1960, one year after it became a US state, when a tsunami killed 61 people.
The fate of some of Lāhainā's cultural treasures remains unclear. The historic 18-meter-tall banyan tree marking the spot where Hawaiian King Kamehameha III's 19th-century palace stood was still standing, though some of its boughs appeared charred, according to a Reuters witness.
"We will need to rebuild the entirety of Lahaina, I believe," Governor Green told KHON 2, a local Fox affiliate.
US President Joe Biden approved a disaster declaration for Hawaii, allowing affected individuals and business owners to apply for federal housing and economic recovery grants.
The cause of the Maui wildfires has yet to be determined, officials said, but the National Weather Service said dry vegetation, strong winds, and low humidity fuelled them.
Wildfires occur every year in Hawaii, according to Thomas Smith, an environmental geography professor at the London School of Economics and Political Science, but this year's fires are burning faster and bigger than usual. (Radio New Zealand)