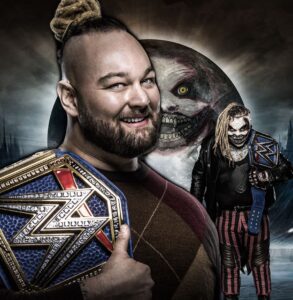 Professional wrestling star Windham Rotunda, also known as Bray Wyatt, has died at the age of 36.
A cause of death has not been shared.
The news was confirmed by WWE chief content officer Paul "Triple H" Levesque in a post on X, formerly known as Twitter, earlier today.
"Just received a call from WWE Hall of Famer Mike Rotunda who informed us of the tragic news that our WWE family member for life Windham Rotunda — also known as Bray Wyatt — unexpectedly passed earlier today," he wrote.
He was the son of Mike and Stephanie Rotunda, and at the time of his death was engaged to former WWE star Joseann Offerman, also known as JoJo.
They had two children together.
Wyatt, also known as "The Fiend", was the 2017 WWE champion but had not wrestled professionally since the 2023 Royal Rumble.
American news outlets were reporting he was dealing with an undisclosed illness and had not been cleared to return.
In a statement, WWE said Wyatt was a "defining superstar of his generation".
"Known for his captivating performances and incredible in-ring presence, Wyatt was a defining superstar of his generation and accomplished many feats in WWE, including becoming WWE Champion in 2017."
"WWE extends its condolences to Rotunda's family, friends and fans," the statement added.
Wyatt's career included well-publicised rivalries with wrestling superstars such as John Cena, Randy Orton and The Undertaker.
Wrestling stars including Dwayne "The Rock" Johnson, Australia's Rhea Ripley, and Matt Hardy posted tributes to Wyatt on social media after the news was confirmed.
"Im (sic) heartbroken over the news of Bray Wyatt's passing. Always had tremendous respect and love for him and the Rotunda family," Johnston wrote on X.
Ripley, whose real name is Demi Bennett, also shared her sadness about Wyatt's death.
Wyatt's former tag team champion partner Hardy said he was "absolutely shattered".
Amanda Huber, wife of former-professional wrestler Jon Huber (best known to wrestling fans as Luke Harper or Brodie Lee), who died from a lung illness in 2020, said she was "devastated".
Huber and Wyatt worked as tag-team partners and rose to prominence in a wrestling faction dubbed "The Wyatt Family".
Wrestling had always been a family affair, with Wyatt's grandfather Robert Deroy Windham (Blackjack Mulligan), father, and two of his uncles, Barry and Kendall Windham, all wrestling in WWE.
The news of Wyatt's death comes just one day after professional wrestling legend and WWE Hall of Fame member Terry Funk died at the age of 79.
ABC/AP