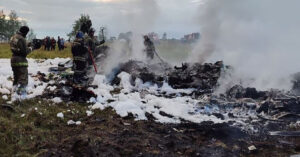 Vladimir Putin has broken his silence over Yevgeny Prigozhin's reported death – some 24 hours after the Wagner chief's private jet crashed.
Russia's president said the head of the mercenary group was a "talented person" who "made serious mistakes in life".
Mr Putin also sent condolences to the families of all 10 people said to be on board the plane that went down north-west of Moscow on Wednesday evening.
However, he stopped short of explicitly confirming Prigozhin's death.
From the moment the plane came down, there has been frenzied speculation about what caused the deadly crash and whether Prigozhin was indeed on board, as stated on the passenger list.
At a briefing on Thursday, a Pentagon spokesperson said the US believed the Wagner chief was likely killed in the crash.
Villagers near the crash site in the Tver region say they heard a loud bang before seeing a plane falling out of the sky.
One of the theories being investigated is whether a bomb was smuggled on board, reports in Russian media suggest.
A US official told CBS News, the BBC's US partner, that the most likely cause appeared to be an explosion aboard the aircraft.
What caused the explosion was not known, although a bomb was one possibility, the official added.
Another theory, raised by a Prigozhin-linked Telegram channel, suggested that the jet had been shot down by Russian anti-aircraft forces. This has not been confirmed, and on Thursday the Pentagon said there was no information to indicate this.
Ground staff in Moscow's Sheremetyevo airport – where the plane took off heading for St Petersburg – are being questioned, and CCTV footage is being checked.
Prigozhin – the leader of Russia's Wagner mercenary group – was once known as a Putin loyalist.
But after leading a short-lived mutiny in Russia in June, many observers described him as a "dead man walking".
The Kremlin stayed conspicuously silent after the crash. The following morning, President Putin even addressed the Brics summit in South Africa via video-link – but made no mention of the crash that much of the world was talking about.
On Thursday evening, however, that changed.
"I would like to above all express words of the most sincere condolences to the families of all those who have died," he said in a televised meeting at his Kremlin residence.
Initial data, he continued, suggested that "Wagner employees" were on board.
"These are people who have made a significant contribution to our common cause of fighting the neo-Nazi regime in Ukraine," Mr Putin said, repeating the Kremlin's false narrative that Ukraine is aligned with Nazism.
He used this accusation to justify his full-scale invasion of Ukraine in February 2022.
Turning to Prigozhin himself, Mr Putin said he had known him since the early 90s, and described him as a "man with a complicated life".
The Russian leader also had praise for Prigozhin and his fighters, in particular for their actions in Ukraine.
"He made serious mistakes in life. But he achieved results both for himself, and for the common good when I asked for it – like in the last few months."
Despite speaking about Prigozhin in the past tense and offering his sympathy to the families of the victims, Mr Putin did not confirm the Wagner chief's death. (BBC)