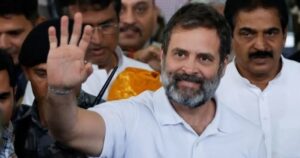 Indian opposition leader Rahul Gandhi has returned to parliament for the first time since he was convicted in a criminal defamation case.
The Congress party leader had lost his lawmaker status in March after he was sentenced to two years in jail.
He was reinstated as MP on Monday, two days after the Supreme Court suspended his conviction.
Congress leaders celebrated his return by shouting slogans and distributing sweets outside parliament.
Leaders of other opposition parties also expressed their joy over Mr Gandhi's return to parliament.
Mr Gandhi is a Congress party MP from Wayanad in the southern state of Kerala.
Political observers say his reinstatement as a lawmaker is a boost for INDIA – an alliance formed by 26 opposition parties – as it means that Mr Gandhi can contest the national election next year. The alliance hopes to take on Prime Minister Narendra Modi's Bharatiya Janata Party (BJP) in the election.
The case against Mr Gandhi was filed over comments he made about Mr Modi's surname in a 2019 election rally.
His conviction and disqualification had sparked protests from opposition parties, which accused the governing BJP of targeting him. The BJP had denied this, saying due judicial process was followed in the case.
Speaking at a rally in Karnataka state in 2019, Mr Gandhi had said: "Why do all these thieves have Modi as their surname? Nirav Modi, Lalit Modi, Narendra Modi."
Nirav Modi is a fugitive Indian diamond tycoon while Lalit Modi is a former chief of the Indian Premier League who has been banned for life by the country's cricket board.
BJP lawmaker Purnesh Modi filed a defamation case against Mr Gandhi, alleging that the comments had defamed the entire Modi community. Mr Gandhi had argued that he made the comment to highlight corruption and it was not directed against any community.
He was convicted by a court in Gujarat state in March and sentenced to two years in jail. He lost his MP status a day after his conviction – in accordance with a 2013 Supreme Court order which says that a lawmaker convicted in a crime and sentenced to two or more years in jail stands disqualified from parliament with immediate effect.
The court then granted Mr Gandhi bail to appeal against his conviction and in July, the Gujarat high court dismissed his appeal.
But on Friday, the Supreme Court suspended his conviction, saying that the reasons given by the trial court judge for giving the maximum punishment of two years to Mr Gandhi were "without sufficient reasons and grounds".
It also said that the Congress leader should have been more careful while making the remarks. (BBC)