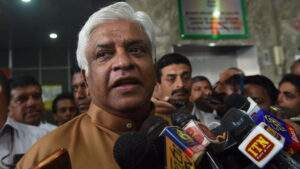 Former Sri Lankan skipper Arjuna Ranatunga slammed the International Cricket Council (ICC) over the unprofessional handling of the India-Pakistan Super Four fixture at the Asia Cup 2023.
As it turned out, the winner in the India-Pakistan game in the Super Fours was decided on the reserve day.
The Bangladesh and Sri Lanka Boards gave their green light to have the reserve day for one fixture only. Ranatunga was fuming over the above decision. He also criticised the Asian Cricket Council (ACC) to have kept Colombo as the venue, despite the occurrence and forecast of heavy rainfall.
Ranatunga said that ICC should be the ones protecting the cricket, rather they act in an unprofessional way. He termed ICC as the "toothless tiger".
"I don't know whether the ICC is acting today or whether we have ICC. They always say ICC is the toothless tiger. They act in a very unprofessional way. They should be the ones protecting cricket. Ultimately, cricket should be controlled by the ICC, not by a country or an individual."
He raised questions over the adding a reserve day only for the India-Pakistan clash.
"I am not very comfortable with some of the things, especially when you have a tournament where you change rules for one team. You're looking at a disaster in the future. No one talks about it. Have you ever seen a single cricketer talk about this rule change? No. Why? They don't want to miss the buck. Simple as that," the 59-year-old seemed astonished with the decision.
Ranatunga merited the fans for being so fond of the game. He admitted that the fans are more educated than the officials, and they deserve to be treated better. Ranatunga claimed that the poor scheduling is done by the powerful.
"Our crowd, our spectators are so educated in cricket. They have better knowledge than us. Why did they do this (poor scheduling)? Why do other countries allow that to happen? Because the BCCI is powerful, or one particular person is powerful", admitted Ranatunga.
India will face Sri Lanka in the Asia Cup 2023 Final. The match will be hosted at the R. Premadasa Stadium in Colombo, on 17th September, 2023. India are the only unbeaten team in the tournament. They are also the only team to have beaten Sri Lanka in the ongoing Asia Cup. (Courtesy Sporting News)