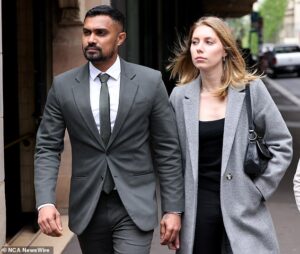 Sri Lankan cricketer Danushka Gunathilaka has been acquitted of raping a Tinder date in Sydney by allegedly removing his condom without her consent.
The Sri Lankan batter was found not guilty of raping the woman through the act of "stealthing".
Judge Sarah Huggett acquitted the 32-year-old as he sat at Sydney's Downing Centre district court on Thursday.
"The evidence establishes that there was no opportunity for the accused to remove the condom during intercourse because that intercourse was continuous," the judge said in handing down the verdict.
Huggett found that the alleged victim, who cannot be named, was an intelligent witness who did not deliberately give false evidence, but was motivated by a desire to paint the cricketer in an unfavourable light.
"I find that the evidence regarding the complaint far from supports the complainant. Rather it undermines the reliability of her evidence," Huggett said.
Gunathilaka and the woman matched on the dating app and met for drinks at Opera Bar in November 2022 before having pizza together in the Sydney CBD and then catching a ferry to the woman's eastern suburbs home.
The woman accused him of various acts of aggression and violence, such as slapping her on the buttocks, forcefully kissing her and bruising her lips, and choking her during sex.
Police initially brought four charges against the 32-year-old, who was arrested at the Hyatt Regency hours before the Sri Lankan cricket team was due to fly out of the country.
Prosecutors later dropped three of those charges.
He has always maintained his innocence, pleading not guilty to one count of sexual intercourse without consent relating to the cricketer's alleged "stealthing", or removing his condom during sex without the woman's consent.
During the judge-alone trial, defence lawyers attacked the credibility of the complainant, claiming her story shifted over time and that she edited her version of events to paint Gunathilaka as an aggressive person.
Huggett also heard evidence from two of the woman's friends who described her as fragile and distraught the day after the cricketer attended her home.
Police officers who spoke to the woman were also grilled about the way they handled the case, including omitting crucial details, throwing out notes and potentially contaminating witnesses.
Gunathilaka has been on bail during the trial but was unable to play international cricket or return to his home town of Colombo. (Australian Associated Press)