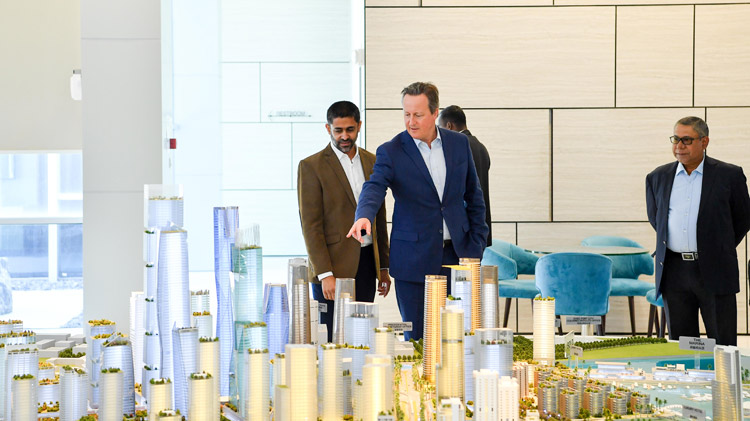 Former UK Prime Minister David Cameron is to promote the Colombo Port City at a roadshow showcasing investment opportunities and incentives for global investors.
Cameron will address an exclusive, closed-door forum on the strengthening ties between the UAE, Indo-Pacific region and the role of Sri Lanka in this new trend gaining increased momentum.
The discussion will showcase the UAE's role as an international player that can concurrently engage with multiple partners, including in the Indo-Pacific region.
Expected to represent more than 50 percent of the global Gross Domestic Product (GDP) by 2040, Asia is increasingly becoming the new economic global power centre of the 21st century.
In this context, the UAE aims to strengthen its connections with the Indo-Pacific region and Sri Lanka will play a crucial role in this partnership with its trade and investment offerings particularly through the up-coming multi-billion dollar Port City Colombo development project.
Port City Colombo is a visionary FDI-funded mixed development project that aims to redefine Sri Lanka's economic and social landscape. Built on reclaimed land, adjacent to the heart of Sri Lanka's capital, Colombo, PCC will offer a cosmopolitan lifestyle, world-class infrastructure, and sustainable living. As a Special Economic Zone (SEZ), it also provides a range of incentives and benefits for businesses, making it an ideal destination for international businesses, hotel owners and operators to establish their presence in Sri Lanka.
The SEZ's independent governance framework, by way of the Colombo Port City Economic Commission (CPCEC), is also setting the stage for PCC to become one of the easiest places to do business in the region, further cementing its prospects as the Gateway to South Asia.
The Port City Colombo UAE Roadshow arrives on the heels of a significant milestone achieved by the Colombo Port City Economic Commission (CPCEC) recently gaining Cabinet approval for its Businesses of Strategic Importance (BSI) Guidelines, a move that underscores its commitment to transforming Port City Colombo into a globally competitive special economic zone.
Under the approved guidelines, primary and secondary businesses of strategic importance will receive a range of incentives, including exemptions from relevant enactments, favourable corporate tax rates, and enhanced capital allowances. These incentives aim to create a conducive environment for businesses to thrive within PCC, further enhancing its appeal to investors. Among these incentives are tax breaks and regulatory mechanisms, aimed at facilitating seamless business operations and ensuring a favourable investment environment for both local and international entrepreneurs.
The CPCEC has worked closely with international advisory firms to benchmark its efforts, ensuring that Port City Colombo's regulatory framework aligns with global standards. The result is a transparent and business-friendly environment that caters to the unique needs of primary and secondary businesses of strategic importance.
Accordingly, Port City Colombo presents a diverse range of business and investment opportunities that cater to various interests and sectors. Prospective investors can enter into sectors such as real estate development, regional trading and hub operations, luxurious residential and retail spaces, and more. This broad spectrum ensures that investors of all backgrounds can find their niche within PCC, fostering a thriving and diverse economic ecosystem.
Port City Colombo's strategic location is one of its most valuable assets. Positioned as the "Gateway to South Asia", PCC stands ready to serve as a vital hub for trade, commerce, and tourism across the region. Its connectivity to global markets and its role in facilitating international trade make it a strategic cornerstone for investors seeking to tap into the dynamic South Asian market.
The UAE Roadshow event is designed to empower investors with valuable insights and networking opportunities. The event will feature sessions dedicated to investor presentations, offering a platform for in-depth discussions on investment prospects and strategies. International keynote speakers and panel discussions on investment trends will further provide attendees with a comprehensive understanding of the market dynamics and opportunities within PCC.
Promising unparalleled networking opportunities, the Roadshow will also allow potential investors to connect with key stakeholders, decision-makers, and industry experts. This engagement will foster collaborative relationships and provide investors with the support they need to succeed within PCC's soon-to-be-thriving business ecosystem. Through the UAE Roadshow PCC is demonstrating its potential, and commitment towards emerging as a global economic powerhouse. (Colombo Gazette)