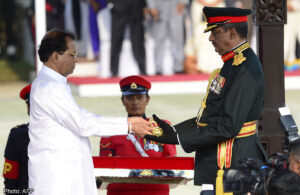 By Easwaran Rutnam
A mini war erupted between former President Maithripala Sirisena and former Army Commander, MP Sarath Fonseka, in Parliament today over the Easter Sunday attacks.
The war of words erupted after Fonseka alleged Sirisena may have met the Director of the State Intelligence Service, Suresh Sallay, in India prior to the 2019 Easter Sunday attacks.
Fonseka said that Sallay was posted to the Sri Lankan mission in India at the time Sirisena had visited India just before the attacks in April 2019.
The former Army Commander said that Sirisena flew to Singapore from India and was in Singapore when the attacks took place.
He said that Sirisena and former President Gotabaya Rajapaksa were responsible for the deadly 2019 Easter Sunday attacks.
Sirisena, however, rejected the allegations and denied meeting Sallay in India.
"I never met Sallay in India," Sirisena said.
The former President went on to accuse Fonseka of failing to prevent the suicide attack carried out by the LTTE on the Army Headquarters in 2006.
Sirisena said that several people were killed during the attack on the Army Headquarters.
He also said that several soldiers were killed when Fonseka was Army Commander.
The heated exchange continued before State Minister Diana Gamage intervened and objected to Parliament time being used by the two MPs to carry out a personal feud. (Colombo Gazette)