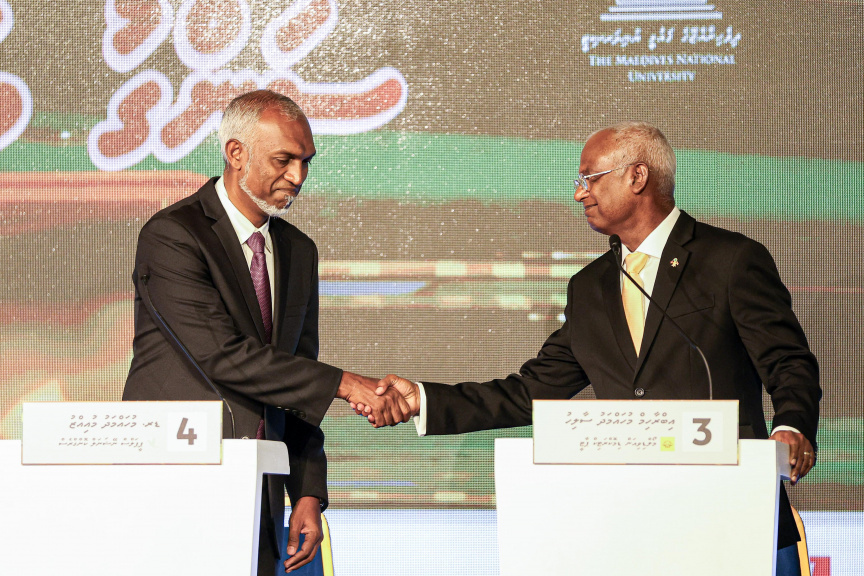 The 2023 presidential election in the Maldives has gone to a runoff, after none of the eight candidates likely to manage to secure over 50 percent of votes.
Polling in the highly contested presidential race closed at 04:00 pm on Saturday. None of the candidates managed to secure enough votes to win the election outright.
The preliminary results place the main ruling MDP's President Solih, and the main opposition PPM-PNC coalition's candidate Dr. Mohamed Muizzu in the lead.
With more than 365 out of 575 ballot boxes counted, Muizzu is leading with 45 percent of the votes (53,000 votes). President Solih received 40 percent (47,000 votes).
Based on the margins from individual boxes, the results from the remaining boxes are unlikely to change the outcome.
The remaining candidates trailed far behind, with The Democrats candidate Ilyas Labeeb winning just seven percent, and former home minister Umar Naseer and JP's candidate and leader Qasim Ibrahim winning 2.8 percent.
Independent candidates Ahmed Faris Maumoon won one percent, while MNP's candidate Colonel (Retired) Mohamed Nazim and Hassan Zameel failed to secure even one percent.
Maldives has consistently gone to runoffs in presidential elections where more than two candidates have contested. Elections in 2008 and 2013 both went to runoffs, while only two candidates had contested the 2018 election.
The winner – between President Solih and Muizzu – will be decided in a runoff vote held on September 30. (Courtesy SUN)