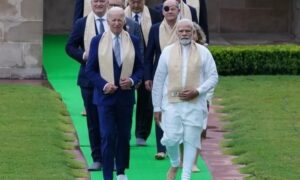 Russia's Foreign Minister Sergei Lavrov has praised a joint declaration by G20 leaders in Delhi that avoids condemning Moscow for its war against Ukraine.
Russia had not expected consensus and agreement on the wording was "a step in the right direction", said Mr Lavrov.
The closing G20 statement denounced using force for territorial gain but made no mention of Russian aggression, prompting criticism from Ukraine.
The two-day summit also inducted a new permanent member, the African Union.
The 55-member bloc joins at the invitation of hosts India, one of whose key objectives while president has been to make the G20 more inclusive with greater participation of so-called Global South countries.
The world's biggest economies reached other key deals in Delhi, including one on climate and biofuels – although there was criticism of the summit's failure to commit to phasing out fossil fuels.
For the second year in a row, there was no official G20 "family photo". No reason was given but reports say many leaders refused to be photographed, pointing to Russia's presence at the summit.
Very few had expected a joint declaration at this year's G20 – not least on the first day of the summit. The group is deeply divided over last year's invasion of Ukraine by Russia. Neither Russia's Vladimir Putin nor China's Xi Jinping turned up in Delhi, sending lower-level delegations instead.
So there was surprise when, just hours after the summit started, Indian Prime Minister Narendra Modi announced consensus had been reached on how to phrase the Ukraine section of the statement, which saw last year's direct criticism of Russia watered down.
Mr Lavrov told a news conference on Sunday that a "milestone" had been reached.
"Speaking frankly we didn't expect that. We were ready to defend our wording of the text. The Global South is no longer willing to be lectured," he said in answer to a question by the BBC's Yogita Limaye.
The UK and US talked up the joint statement too, but Ukraine – which took part in last year's Bali summit but was not invited this year – said it was "nothing to be proud of".
In Bali last year, most members had deplored "in the strongest terms the aggression by the Russian Federation against Ukraine". In contrast, the Delhi declaration talks about "the human suffering and negative added impacts of the war in Ukraine with regard to global food and energy security".
It calls on states to "refrain from the threat or use of force to seek territorial acquisition", which could be seen as directed at Russia, but also notes "different views and assessments of the situation".
Analysts say the economic balance and power dynamics is shifting within the G20, away from advanced market economies of the West to emerging giants, particularly in Asia.
There were other big moments at the summit too, including ambitious deals aimed at tackling climate change.
The G20 members announced that they have reached a 100% consensus to "pursue and encourage efforts to triple renewable energy capacity globally through existing targets and policies". The bloc accounts for more than 75% of the world's greenhouse gas emissions.
And India launched a global biofuel alliance with US and Brazil to boost the use of cleaner fuels. The grouping is aimed at accelerating global efforts to meet net zero emissions targets by facilitating trade in biofuels derived from sources including plant and animal waste. (BBC)