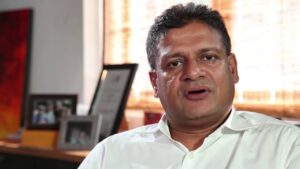 There is strong speculation businessman Dilith Jayaweera will contest the elections likely to take place next year after his name appeared as the leader of a registered political party.
Dilith Jayaweera has been named as the leader of the Maubima Janatha Pakshaya, a registered political party.
Former MP Hemakumara Nanayakkara is the Senior Leader of the party and Lasantha Wickremesinghe the General Secretary.
According to Verite Research, Jayaweera founded an advertising agency, Triad Advertising (Pvt) Ltd, while he was a law student. Established in 1993, the agency was modelled as the country's first local advertising house.
In 2005, the agency gained prominence for running the advertising campaign of former President Mahinda Rajapaksa's candidacy for the presidential election.
Subsequently, Jayaweera admits to investing in a range of other businesses.
In 2015, the Colombo Magistrate Court approved an investigation into the financial transactions of Dilith Jayaweera, Nalaka Godahewa, Varuni Amunugama and Sarvajana Anandaraj Ameresekere over the alleged irregularities in the share transactions of Lanka Hospitals. (Colombo Gazette)