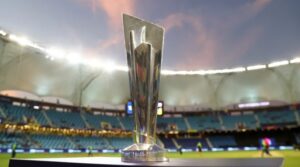 The journey to the ICC Men's T20 World Cup 2024 in the West Indies and the USA continues, this time, Bermuda opens her doors to host the ICC Men's T20 World Cup Americas Qualifier from 30 September to 7 October 2023.
Bermuda, Canada, Cayman Islands and Panama will battle it out in a double round-robin format, over six days to earn a place in the 2024 edition of the Men's T20 World Cup – the biggest one yet, featuring 20 teams in total.
Bermuda will look to continue their good form after winning the Subregional Qualifier, using their home advantage to return to the biggest stage in men's T20 cricket, after their historical appearance in 2007.
Canada, arguably the favourites of the event, will look to confirm this and seal their ticket to a new World Cup participation.
The Cayman Islands are a regular fixture in the regional final but are yet to go through, they will push hard to make it this time.
Panama will be the underdogs, as their participation may come as a surprise to many, but with no real pressure on their backs, this could allow them to play freely and upset the main candidates.
This event promises to be a competitive affair, with the four teams confident of their chances of making it through to the main stage.
Fara Gorsi, ICC Regional Development Manager – Americas said: "It is exciting to have the regional final that will determine the region's last spot in the ICC Men's T20 World Cup 2024. This is obviously a special World Cup for us in the Americas, as it will be hosted in our region jointly by the USA & the West Indies".
"All four teams have proved to be competitive, and we look forward to a high standard event. The ever-progressing hosts, Bermuda Cricket Board, have worked tirelessly to ensure they deliver a world-class final tournament for the region. A huge thank you and acknowledgement of Calvin Blankendal and his team."
Calvin Blankendal, CEO of the Bermuda Cricket Board said: "Bermuda is delighted to have the opportunity to host the ICC Men's T20 World Cup Americas Qualifier in the island.
"We are excited to host our first ICC tournament since 2019. We are certain that the event will be second to none, with passion and love for the game that you won't find easily anywhere else.
"We also believe it is a great opportunity for us to get back to the biggest stage as we aim to participate in the Men's T20 World Cup in 2024".
Participating squads
Bermuda: Delray Rawlins, Kamau Leverock, Terryne Fray, Charles Trott, Dominic Sabir, Sinclair Smith, Zeko Burgess, Derrick Brangman, Tre Manders, Jarryd Richardson, Malachi Jones, Macquille Walker, Allan Douglas. II, Cejay Outerbridge, Josclyn Pitcher.
Canada: Aaron Johnson, Dilpreet Bajwa, Dilon Heyliger, Harsh Thaker, Jeremy Gordon, Kaleem Sana-Ur-Rehman, Nicholas Kirton, Nikhil Dutta, Pargat Singh, Navneet Dhaliwal,
Saad Bin Zafar, Shahid Ahmadzai, Shreyas Movva, Srimantha Wijeyeratne, Ammar Khalid
Cayman Islands: Ramon Anthony Sealy, Paul Okerio Manning, Yeron Sacha Duran De Alwis-Seneviratne, Troy Clinton Taylor, Akshay Reddy Naidoo, Kevon Adrian Bazil, Paul Anthony Chin, Mohan Manivannan, Conroy Fabian Wright, Brian Kerr Corbin, Patrick Albert Heron, Alessandro Alifaroh Morris, Romeo Orlando Careco Dunka, Alistair Fitzwarren Ifill, Christopher Samuel Raj Balraj
Panama: Yusuf Ebrahim Akalwaya, Anilkumar Nathubhai Ahir, Khengar Bhai Ratilal Ahir, Mahmud Bhana Jasat, Mohmad Sohel Umer Patel, Nikunj Mukesh Bhai Ahir, Abdullah Bham Jasat, Rahul Dipakbhai Ahir, Sohilkumar Girisbhai Ahir, Laxman Ramakant Gaonkar, Ibrahim Ismail Ranguni Bhana, Jay Kumar Chetanbhai Ahir, Mahmad Musaji Data, Abdullah Afzal Bhoola Bhoola, Faizan Liyakat Patel