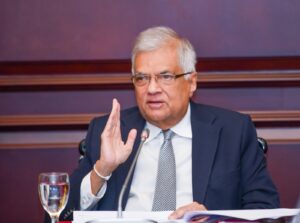 President Ranil Wickremesinghe lost his cool and threatened to walk out of an interview with Deutsche Welle after he rejected an international investigation into the Easter Sunday attacks.
The President at one point accused the host of "talking nonsense" and said that Sri Lanka does not see the need for international observers even over the war.
Wickremesinghe, at one point, suggested that the interview be stopped and that he leaves as both sides were raising their voices at each other.
During the interview, the President also said that he is not dealing with Cardinal Malcolm Ranjith but only with the Catholic Bishops' Conference.
(Colombo Gazette)
President Ranil Wickremesinghe lost his cool and threatened to walk out of an interview with Deutsche Welle after he rejected an international investigation into the Easter Sunday attacks.#Srilanka #lka #RanilWickremesinghe pic.twitter.com/I4saBPaGKE

— Easwaran Christian Rutnam (@easwaranrutnam) October 2, 2023