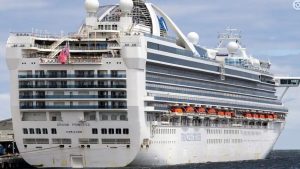 A cruise ship containing a COVID-19 and gastro outbreak has arrived in South Australia.
Operated by Princess Cruises, the Grand Princess cruise ship docked into Port Adelaide on Monday morning.
South Australia Health has confirmed only seven per cent of the passengers have been diagnosed with COVID-19 or gastroenteritis.
Reportedly, passengers and crew claim the number of people confined to their rooms increased as early as two days into the ship's 18-day voyage.
The state is currently in the middle of a Coronavirus outbreak, with SA Health reporting just last Friday that 2,493 COVID-19 cases – which is up by 793 from the past reporting period.
SA Premier Peter Malinauskas has ruled out the reintroduction of mandatory face masks. (Sky News)