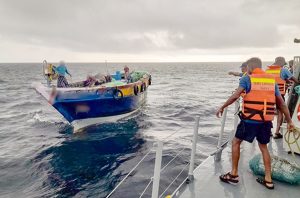 The Sri Lanka Navy detained two Indian dhows and arrested 22 fishermen engaged in poaching activities in Sri Lakan waters off the coast of Point Pedro.
The Northern Naval Command deployed its Fast Attack Craft to chase away a cluster of Indian poaching trawlers, after having spotted them engaging in illegal fishing in Sri Lankan waters, Saturday.
The Indian fishermen (22) and the dhows were brought to the Kankasanthurei Harbour and were handed over to the Fisheries Inspector of Mailadi for onward legal action.
The Sri Lanka Navy has seized 29 Indian trawlers and arrested 196 Indian fishermen so far in 2023. Following these apprehensions, the poaching trawlers and fishermen have been handed over to the relevant authorities for legal action. (Colombo Gazette)