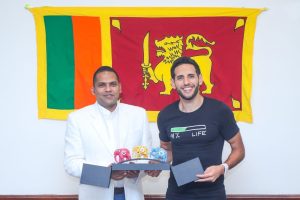 Sri Lanka has signed a deal with popular influencer Nas Daily to boost tourism in the country.
Issuing a statement, Tourism Minster Harin Fernando said that the recent visit of Nuseir Yassin, renowned as Nas Daily, to Sri Lanka through the invitation of the Tourism Promotion Bureau marks a significant milestone with the formalization of a promising agreement.
"This collaboration is poised to be a catalyst in propelling Sri Lanka's tourism industry to new heights, leveraging the global resonance of the Israeli-Arab vlog creator," the Minister said.
He said they boasting a substantial following numbering in the millions, Nas Daily's influence is undeniable.
His earlier productions centered on Sri Lanka, including "This is Made of Poop," "My Biggest Money Mistake," and "The Key Board Warrior," have resonated with a diverse audience.
In a noteworthy 2020 video, Nas Daily spotlighted Sri Lanka as "The Most Generous Country During Covid," a narrative that struck a chord with viewers worldwide.
Fernando said that the latest agreement with the Tourism Promotion Authority not only reinforces the potential for cultivating positive perceptions but also signals a boost in tourism interest for Sri Lanka, aligning seamlessly with Nas Daily's distinctive storytelling prowess. (Colombo Gazette)