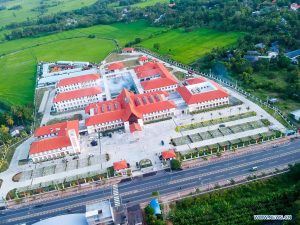 President Gotabaya Rajapaksa says the nephrology hospital constructed in Polonnaruwa is not the solution to the kidney disease issue in Sri Lanka.
Speaking to farmers in Bunnahepola, Udubaddawa, the President said that measures need to be taken to protect the future generations.
"A major hospital to treat kidney patients has been constructed in Polonnaruwa with Chinese assistance. Is that what we should be doing? No. We must make a change for our future generations," he said.
President Gotabaya Rajapaksa had in June this year officially opened the largest specialized nephrology hospital in South Asia, which was built through a grant from China. The hospital has an area of 25,000 square meters, featuring 200 general inpatient beds, 100 hemodialysis beds, and 20 intensive care beds.
The President said that his objective is to improve the living standards of the farming community.
"In this regard, I'm ready to make difficult decisions that political leaders may hesitate to make. Many calls were made not to get involved in a war back then. Similar to how the 30-year-old war was brought to an end, the goal of green agriculture will be achieved irrespective of the obstacles," the President said.
The President said that he is not focused on the votes but on doing the right thing for the people and added that he is ready to take bold decisions for what is right and focus only on the needs of the people.
He also said that though global chemical fertilizer companies place obstacles by provoking various forces, he is not afraid of any of them and added that the people had elected him as their leader to make the right decisions. (Colombo Gazette)