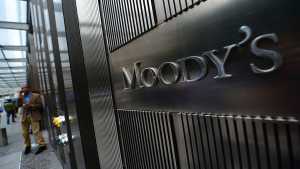 Moody's Investors Service ("Moody's") has downgraded the Government of Sri Lanka's long-term foreign currency issuer and senior unsecured debt ratings to Ca from Caa2. The outlook is stable.
The decision to downgrade the ratings is driven by the authorities' announcement of debt servicing suspension on external public debt repayments, which will lead to a series of defaults with the first coupon payments for the government's international bonds coming due today, 18 April 2022.
Given the low level of foreign exchange reserves, compounded by the rise in balance of payment pressures with higher fuel and food prices and the slow recovery in tourism and foreign direct investment inflows, Moody's assesses that private sector creditor losses stemming from the eventual debt restructuring is likely to be material and exceed the limited levels of loss consistent with the previous Caa2 rating.
This assessment further reflects governance weaknesses in the ability of the country's institutions to take measures that decisively address the very low adequacy of foreign exchange reserves and very weak debt affordability, thereby contributing to loss given default, at least in line with precedents by other defaulting sovereigns.
Although credit pressures remain significant, the stable outlook reflects Moody's view that the scale of losses that private sector creditors would face in a debt restructuring would likely be consistent with levels associated with the Ca rating. A status quo scenario without the implementation of fiscal reforms and presence of a large external financing envelope may result in deeper losses than implied by the Ca rating. However, the government is seeking financial support from the International Monetary Fund (IMF), which would likely be accompanied by reforms and a gradual recovery of foreign investor confidence. A quicker recovery of foreign exchange inflows, including non-debt generating flows, would in turn limit losses to private sector creditors.
Sri Lanka's local and foreign currency country ceiling have been lowered to Caa1 and Ca from B2 and Caa2, respectively. The three-notch gap between the local currency ceiling and the sovereign rating balances a contained government footprint, against the very low foreign exchange reserves adequacy that raises macroeconomic risks as well as the challenging domestic political environment that weighs on policymaking.
The three-notch gap between the foreign currency ceiling and local currency ceiling takes into consideration the high level of external indebtedness and the risk of transfer and convertibility restrictions being imposed given low foreign exchange reserves adequacy, with some capital flow management measures already imposed. (Colombo Gazette)