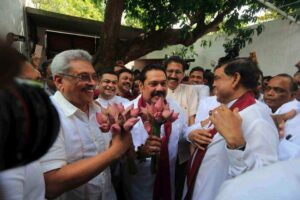 By our special correspondent
President Gotabaya Rajapaksa is expected to ask Prime Minister Mahinda Rajapaksa to step down, sources said.
Government sources told Colombo Gazette the President is expected to request the Prime Minister to give way for a new all-party Government to take over.
He has already informed ruling party dissident MPs that he was to appoint a new Cabinet after the Prime Minister and Cabinet resign.
The Prime Minister has already said that he will not resign and can only be sacked.
However, it is not clear if the President will sack his brother, Prime Minister Mahinda Rajapaksa.
The dissident MPs have said that if the Prime Minister is not removed it will then lead to more chaos in the country.
The opposition has demanded that both the President and the Prime Minister resign for an all-party Government to be appointed. (Colombo Gazette)