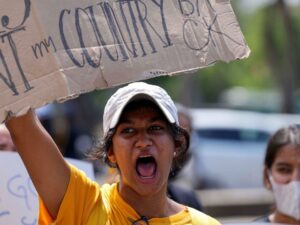 Trade unions today launched a major strike crippling key operations across the country.
Government, private and semi-Government trade unions are supporting the strike.
Transport, port, health and banking sectors are among those affected by the one-day token strike.
The strike is in support of the ongoing protests calling on President Gotabaya Rajapaksa and his administration to step down.
Federation of University Teachers' Association (FUTA) was quoted as saying members of its sister unions representing all State universities refrained from attending regular duties, in solidarity with other trade unions today.
Ceylon Bank Employees' Union said member banks notified its customers that there could be disruptions to banking services at countrywide branches today owing to the strike.
According to reports, several banks notified in their official websites on the list of branches that will be kept open for business, to provide 'only' urgent and essential services.
Health workers were also joining the strike but they assured services at hospitals will not be affected.
The Ceylon Electricity Board Employees Union said that if there is any breakdown in the National Grid during the strike, they will not attempt to reconnect services. (Colombo Gazette)