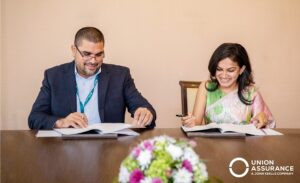 Sri Lanka's largest Bancassurance provider, Union Assurance PLC has entered into a Bancassurance partnership with global banking giant Standard Chartered. This is a key milestone for Union Assurance as it further expands its Bancassurance footprint in Sri Lanka.
The partnership focuses on offering customers of Standard Chartered a range of best-in-class insurance solutions comprising savings, protection, and investment while helping further with the best insurance advice.
The Chief Executive Officer of Union Assurance, Jude Gomes said yet another significant partnership demonstrates their commitment to providing insurance needs and that it bolsters their reputation as the leading Bancassurance provider in the country.
"It is another step forward in empowering the Sri Lankan dream and reflects our promise to offer the best value to our customers," Mr. Gomes added, pointing out that it also enhances the potential for Bancassurance in Sri Lanka.
Chief Bancassurance Officer of Union Assurance, Vindya Cooray said, "We are glad to be in partnership with a global bank like Standard Chartered. It enables us to widen our reach so that more customers benefit from our innovative solutions and service excellence."
Standard Chartered also hailed the strategic alliance. The Head of Consumer, Private and Business Banking, Aroshana Fernando said they continuously remain committed to providing the best financial solutions to their loyal clients while staying true to their brand promise, 'Here for good.'
He further stated, "Our partnership with Union Assurance allows our clients to enjoy the benefits of a total long-term protection plan, which also acts as an investment product that ensures a secure financial future. A financially secure future is very important to all of us now more than ever, and we hope our partnership with Union Assurance will cater to a timely need of our clients."
The partnership offers Standard Chartered's client base a convenient one-stop service and the opportunity to effortlessly access a wide range of best-in-class insurance while fulfilling their banking needs.
Union Assurance's success as the leading Bancassurance provider is further strengthened by innovative digital solutions to provide unmatched customer service. Amidst greater public interest in Life Insurance, the partnership enables the Company to deliver expert consultation, superior solutions, and sound financial advice to customers.
Union Assurance is a part of the John Keells Group, one of Sri Lanka's largest listed conglomerates. It is among the most awarded Insurance companies in Sri Lanka, completing over three decades of success with a market capitalization of Rs. 17.3 Bn, a Life Fund of Rs. 49.8 Bn and a Capital Adequacy Ratio (CAR) of 228% as of December 2021. Set to empower the Sri Lankan Dream, Union Assurance offers Life Insurance solutions that cover education, health, investment, protection, and retirement needs of Sri Lankans. With an Islandwide branch network and over 3,000-strong workforce, Union Assurance continues to invest in people, products, and processes with a customer-centric focus to be responsive to emerging changes in the Life Insurance industry.