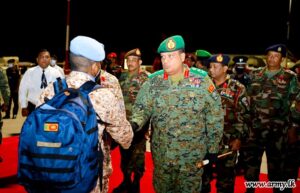 Another Sri Lanka Army contingent left for Mali to join the United Nations (UN) Multidimensional Integrated Stabilization Mission in Mali (MINUSMA).
The Army said that a contingent of 100 well-trained, meticulously-prepared and professionally-trained Army personnel left for Mali.
Chief of Defence Staff and Commander of the Army, General Shavendra Silva greeted the troops before they left Sri Lanka from the Bandaranaike International Airport.
"You, members of 12 Regiments of the Army have to keep in mind that this UN mission is an endorsement of the acceptance of your professional capabilities. It also showcases the recognition, bestowed upon our country by the UN as a troop contributing country. It is your responsibility and prime duty to safeguard the dignity of our motherland and act with strict discipline and decorum without allowing anyone to interfere with your duties," the Commander of the Army told the troops.
General Shavendra Silva later told reporters that the Army will not deviate from the role of protecting Sri Lanka and her people at any cost.
He said that it was the Army with the support of the Police who controlled the violence that erupted on 9th May within 24 hours.
Major General Vikum Liyanage, Chief of Staff, Major General Indu Samarakoon, Army Logistic Commander, Major General Nishantha Manage, Director General General Staff, Major General Swarna Bhothota, Adjutant General, Major General Prasad Edirisingha , Rector ,Southern Campus KDU, Major General Udaya Kumara, Director General Personal Administration, Brigadier Shantha Ranaweera, Director Operation and Director Overseas Operation, few senior officers, Officers and Other Ranks were also at the airport. (Colombo Gazette)